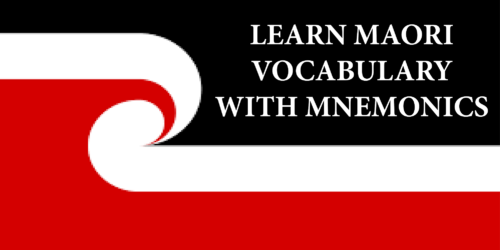 Leading up to the Southern Summer Solstice of 2019, VJM Publishing will be co-operating with Jeff Ngatai to put together a book about learning the vocabulary of Te Reo Maori by using mnemonics.
A follow up to our 2012 publication Learn Spanish Vocabulary With Mnemonics, this book will essentially seek to achieve the same goal: to help native speakers of English learn another language as efficiently as possible.
A mnemonic is a way of arranging information so that, when you learn it, it is much easier to remember. An example of a mnemonic is the fictional boy's name ROY G. BIV – not a real name but if you can remember it you can remember red, orange, yellow, green, blue, indigo and violet: the colours of the rainbow.
Note! A mnemonic is a tool for learning how to remember words, not a tool for learning how to pronounce words! This book will teach you how to remember the Maori translations for a moderately large number of English words, which will make it much easier and faster for you to learn the necessary vocabulary to speak fluent Te Reo. However, if you want to learn how to pronounce these words you have to listen to a native speaker and imitate them! This book can only be used in conjunction with e.g. YouTube videos that feature native speakers speaking the language. They will teach you how to pronounce the words – this book will tell you how to remember which of the most important thousand or so words translate from English to Maori and vice-versa.
Mnemonics were used by ancient Greek and Roman statesmen to memorise the 20 or 30-minute speeches that they were forced to give in order to prove their mental competence to govern.
Used skillfully, they are capable of rapidly increasing the speed at which a student can learn a set body of information as well as the length of time that the body of information can be remembered before it starts to degrade.
A common way to use a mnemonic to learn a piece of foreign language vocabulary is to imagine a scene, as realistically as possible, replete with sights and smells and sounds.
There must be something about the scene that links the sound of the word that you are trying to learn with the word in English, so that the two of them become associated in your memory (associative learning is the basis of mnemonics).
If you wanted to learn that the Swedish word for 'table' is 'bord' you can imagine a man sitting at a table with his head in one hand, looking bored. Once you associate the sight of the table with the word 'bored' you have also associated table with the similar-sounding 'bord'.
An example of a mnemonic to learn Maori language vocabulary might be as follows.
Let's say you want to learn that the word for 'man' is 'tāne'. You might imagine yourself peering into a fog and seeing a fleeting shape. The shape takes the form of a man, and you hear him speak in a man's voice.
It is definitely a man – and then the fog clears more and you see that the man was Tony Soprano (if you don't know who Tony Soprano is, imagine that man is anyone else you know named Tony).
If you need to remember the name for 'man' at any point, this mnemonic should help your subconscious mind recall the link between the idea of 'man' and a sound similar to 'Tony' – and so you should remember that the translation is 'tāne'.
All of the mnemonics in the upcoming book Learn Maori Vocabulary With Mnemonics are of this kind: a simple, powerful visual image that makes a phonetic connection between a word in English and its translation in Te Reo Maori.
Starting tomorrow, this website will start to present short lists of English-Maori mnemonics that are excerpts from the upcoming book.
Previous lists of mnemonics for native speakers of English looking to learn Maori vocabulary:
Home Words
Competition Words
Military Words
Physical Dimensions
Sports Words
Natural Cycles
Entertainment Words
Colour Words
Animal Words
Head Words
Travel Words
Nature Words
Food Words
Kitchen Words
Garden Words
Caring and Sharing Words
Government Words
Rugby Positions
Rugby Words
Truth and Lies Words
Buildings Words
Parts of Language Words
Law and Justice Words
Time Words
Protest and Politics Words
Media Words
Recreational Drugs Words
School and Study Words Spirituality Words Voting and Elections WordsBanking and Money Words