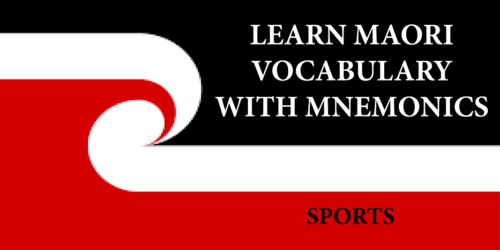 Rugby – whutupōro
(loan) A group of kids playing rugby ask another kid, who is wearing rags, if he'd like to play. The kid says "Fuu, too poor, yo."
League – rīki
(loan) A rugby league team walks past an old woman. She looks horrified and holds her nose, as if they reek.
Cricket – kirikiti
(loan) A man walks through a field wearing cricket gear and carrying a cat.
Netball – poitarawhiti
A woman in netball uniform walks onto a court eating a pie. The umpire says to her "If you want to play netball you'll have to pay the pie tariff."
Ball – poi
A boy plays cricket, but instead of bowling a ball he bowls a pie.
bounce – tāwhana
Inside a tavern, a crowd of drunken revellers bounce balls of all descriptions.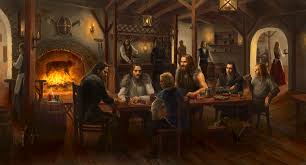 catch – hopu(-kia)
A man hops along some grass and then dives to catch a ball.
coach – kaitohutohu
A man holding a kite talks to some skeptical schoolchildren. He says "I am the best in the world at coaching you on how to use this kite. Or who? Or who?"
Court/Field – papa tākaro
A middle-aged man meets some children on a sports field after a game and gives them some takeaway food. He is the papa takeaways.
tackle – rutu
Some trees are playing rugby. One of them tackles another by wrapping its roots around them.
kick – whana
A man tries to kick an electric fan into a goal.
pass – kuru
A doctor has a coughing patient on the other side of the room. The doctor says "This will cure him!" and passes a rugby ball into the patient's chest.
*
The above is an excerpt from the upcoming Learn Maori Vocabulary With Mnemonics, by Jeff Ngatai, due to be published by VJM Publishing in the summer of 2017/18.