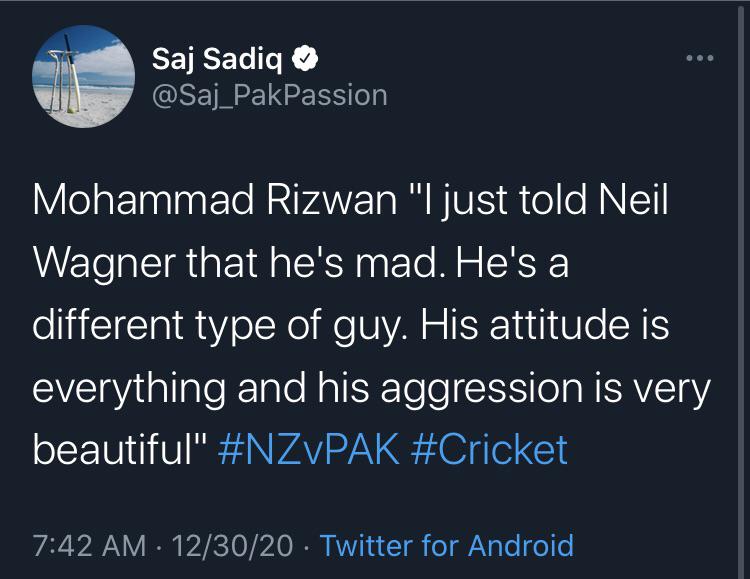 Black Caps fans were disappointed to hear, last Sunday evening, that Neil Wagner had broken two toes batting in the first innings in the ongoing Test against Pakistan. The natural assumption was that the damage would prevent Wagner from bowling, and so the Black Caps were much less likely to win the match than they otherwise would have been. As it turned out, Wagner bowled 49 overs anyway, and the Black Caps won by 101 runs.
The win against Pakistan was important for a number of reasons. For one thing, it propelled the Black Caps to the No. 1 Test ranking for the first time in their history. For another, it meant that they still had a chance to make the World Test Championship final. But the main reason was spiritual.
There are many reasons why the All Blacks are infamously hard to beat. Their extremely high level of skill is one. The main reason, though, is will. The All Blacks go harder than any other team barring the Springboks. They and the Boks seem ready and willing to die to defend their line, a quality shared by no other teams. The All Blacks are even willing to play on with broken bones.
On the 1970 All Blacks tour of South Africa, Colin Meads played most of a match against East Transvaal with a broken arm. The near-demonic will necessary to do this has since become part of the All Blacks mythology. In the half-century since that tour, the All Blacks have built a winning record against every other side in the world, even the 3-time World Cup winning Springboks.
Part of the reason why the All Blacks are so good is their "aura". This is the name given to the All Blacks egregore, which is powerful enough to influence games in its own right. This egregore has gained so much power because of feats like that of Colin Meads. Other teams don't have players willing to play on with broken bones, which is why they keep losing to the All Blacks, who do.
When most Black Caps fans heard that Neil Wagner had two broken toes, they would have resigned themselves to a draw. Tim Southee, Trent Boult, Kyle Jamieson and Mitchell Santner are fine bowlers, but it seems unlikely that they could take 20 wickets by themselves on a placid New Zealand pitch that would continue to flatten out.
That Wagner not only continued to bowl, but took 4-105, is a feat equal to that of Colin Meads half a century ago. Wagner has rightly been lauded for his influence on the outcome of the match, but the larger effect might be Wagner's influence on the Black Caps' egregore. The Black Caps are, now, also a team that fields players willing to play on with broken bones.
Wagner's feat, and the subsequent Black Caps victory, may have created an egregore that is strong enough to win matches on its own. Every team that faces the Black Caps now knows that, as Wagner put it, their opponents would rather be carried off on a stretcher than lose. That is intimidation. That is an aura. That fact will create doubt in the minds of every team that gets ahead of the Black Caps in a match.
It's also impossible to overstate the psychological effect that the Black Caps win will have on world cricket. The bar has now been set higher than ever before. Every cricketer in the world knows that, if they aren't willing to bowl 49 overs on a broken foot, they don't want it as much as the Black Caps do. Net bowlers the world over will tire and, thinking of Wagner, bowl for another hour anyway.
Thanks to the efforts of Wagner and others, the Black Caps are now the world's leading cricket team.
What seems clear is that the Black Caps are about to enter the true Golden Age of New Zealand Cricket. From now until at least the retirement of Kane Williamson, the Black Caps will either be ranked No.1 or will be threatening it. They have a cadre of both batsmen and bowlers who will be able to perform at world-class level, and there won't be mass retirements for at least one more World Cup cycle.
Over the next four to six years, the Black Caps will challenge in all conditions against all opponents. That they themselves believe they can do this has been ensured by Neil Wagner's efforts this week. Both the Black Caps and their opponents know that not even broken bones are enough to stop the Kiwi pace battery. It will provide an invincible confidence.
This Black Caps side is already the No. 1 Test team in the world and easily the best squad that New Zealand has ever produced. The big question is whether they have what it takes to challenge Ponting's Australia as the most complete side in living memory. The next four to six years should tell us.
*
If you enjoyed reading this essay, you can get a compilation of the Best VJMP Essays and Articles of 2019 from Amazon for Kindle or Amazon for CreateSpace (for international readers), or TradeMe (for Kiwis). A compilation of the Best VJMP Essays and Articles of 2018 and the Best VJMP Essays and Articles of 2017 are also available.
*
If you would like to support our work in other ways, please consider subscribing to our SubscribeStar fund. Even better, buy any one of our books!