It's a nearly universal assumption nowadays that people who work are morally superior to people on welfare. People on welfare, we are told, are essentially parasites that do nothing but suck wealth out of the system, and we'd all be better off without them. As this essay will explain, this is almost the exact opposite of reality. People on welfare are, in fact, morally superior to those who work.
The vast majority of human history has been one of deprivation and toil. Having evolved from a common ancestor with chimpanzees and bonobos, the primary survival challenge facing our species for almost the entirety of its existence was finding enough food to meet the metabolic needs of our bodies. For the most part, this was a brutal and bloody struggle against the world – and each other.
This had a powerful effect on the evolution of human behaviour – and our morality.
Because resources are scarce, and the metabolic clock is ticking, humans have always needed to be active. We have always needed to work, whether that be hunting, gathering, fishing or working the land in the form of agriculture. This was how we gathered enough resources to survive. The alternative to activity was death.
Because working was necessary for survival, we have always praised those who did it, and always excoriated those who did not. It was probably necessary to do this, because, had we not done so, the lazy would have dragged all of society down with them. Our culture, especially Northern European culture, came to consider work something almost holy, as if the meaning of life.
Working more and harder is how wealth is built, but as can be seen in the graph at the top of this essay, the planet cannot support the level of consumption that humans are currently subjecting it to. There simply aren't enough of the necessary resources. The resources that do exist are being depleted at such a pace that we can see hard physical limits approaching, and there's no escaping it.
The fact is that a profound paradigm shift has taken place over the past few hundred years, and we've barely even noticed it, let alone adapted to it.
American agricultural productivity increased 1200% between 1950 and 2000. This was thanks to something called the Green Revolution, which increased agricultural productivity severalfold all across the world. What this means is that it requires far, far fewer people to feed society today than what it took in the past. Therefore, most people are now surplus labour.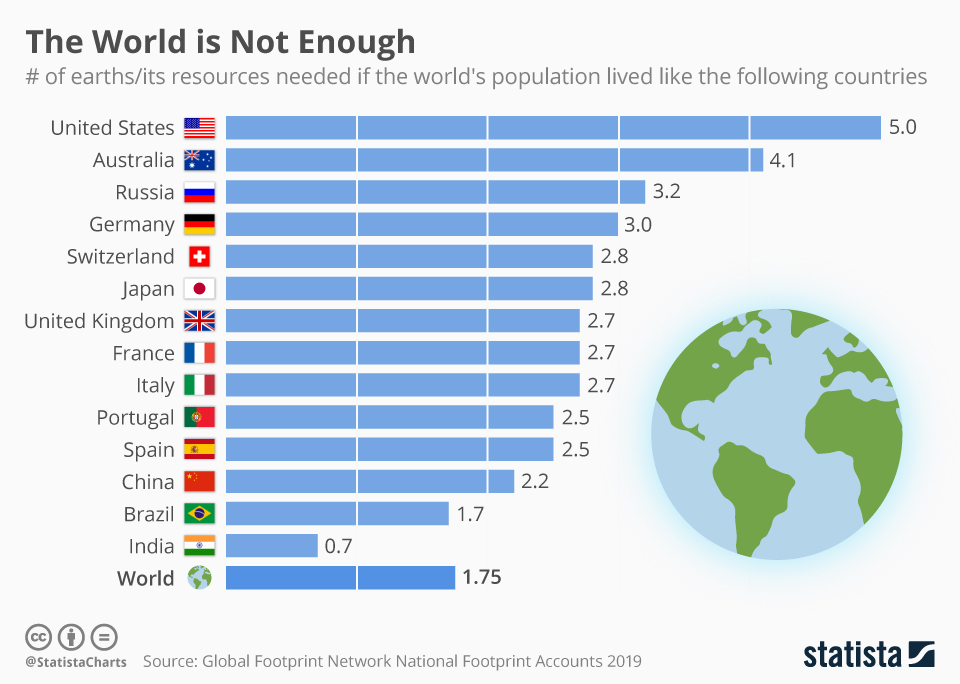 We have adapted to this by setting the now-redundant agricultural workers to work in other industries. First was manufacturing, then service industries. This worked out great for a long time, because all of these non-essential workers were able to produce things that raised the human standard of living, even if those things weren't necessary.
This was pretty awesome for a few decades, and arguably continues to be. However, we are now aware of some things that we once didn't know. In particular, we are now aware of the pressure we're putting on the natural environment through shifting those surplus workers into manufacturing all sorts of things. We now know that we can't keep doing this.
The world doesn't need hard work and production any more. Those days are over. What the world now needs are people who can restrict their consumption to a level that the world can sustain. As seen on the graph above, that level is about half that of the average Chinese level of consumption, some $15,000 of resources every year.
In other words, a First World standard of living will, necessarily, become a thing of the past sooner or later.
For the average Westerner, restricting one's consumption to about $15,000 worth of goods and services a year will not be easy. This will demand an extremely sharp curtailment of material desire. It will mean that far fewer international trips can be taken, and far fewer new cars or big screen televisions can be bought. It may require vegetarianism or something like it. It will require great sacrifice.
Without such a great sacrifice, our planet cannot survive, or at least not in a form that can sustain human life. Therefore, doing so is a moral imperative.
The average Western beneficiary has already achieved this. Considering that the average Western beneficiary already survives without the excessive consumption displayed by almost everyone in a job, they are in fact showing the way forward for the rest of the Western World. They are the pioneers of the future, demonstrating the correct way for the rest of us to behave. They are the Men of Gold.
Like the holy ascetic men of the great Eastern religions, the Western beneficiary class has liberated themselves from materialism. They are therefore showing the way forward for the rest of humanity, and ought to be praised as spiritual masters. The rest of us need to follow the path of the beneficiary, and stop following the path of the worker/consumer. The first step is recognising the moral superiority of the welfare recipient.
*
If you enjoyed reading this essay, you can get a compilation of the Best VJMP Essays and Articles of 2018 from Amazon for Kindle or Amazon for CreateSpace (for international readers), or TradeMe (for Kiwis). A compilation of the Best VJMP Essays and Articles of 2017 is also available.