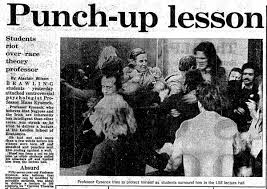 The most strenuously defended falsehood in the world today is not a religion (at least not a recognised one), but a pseudo-scientific dogma. It is the dogma of Equalitarianism. This is the assertion that there are no inherent differences between different human groups, or at least no psychological ones. This dogma, as this essay will show, is the world's most harmful lie.
There is no doubt that there is large variation among and between almost all human groups in almost all measures. Over a hundred years of scientific literature establishes that this is the case. Not only is there great variation in physical traits such as height, body build and skin colour, but there is also great variation in psychological traits such as IQ and proclivities towards certain behaviours.
The question that does get debated is whether or not this variation is natural or whether it is a function of the environment. This is the great debate in psychology, and is known as the nature versus nurture debate. It's an extremely important question, because a person's answer to it is strongly related to their political beliefs. As has been discussed here before, people's beliefs about human nature are closely tied to their political beliefs. One often predicts the other.
One could argue that the elementary political question is: should the differences between people be made smaller?
The response to that question is usually "It depends." More specifically, most people usually feel that the answer depends on whether those differences between people are natural or not. Responses to the elementary political question tend to vary based along these lines.
Those who think that the differences between people are natural tend to think that it's pointless to try and make them smaller. These people would point to the clear differences in height between different races, even when you control for environmental factors such as wealth – just compare the Japanese and Koreans with the Russians and Mongolians. Nature throws up a great amount of variation, and it's more efficient for us to just let it be.
Those who think that the differences between people are unnatural tend to think that it's immoral to let them continue to exist. If differences are unnatural, then they must be the result of prejudices inherent to the structure of society. Therefore, we're morally obliged to restructure society such that those prejudices no longer exist. The favoured strategy for achieving this is mass brainwashing campaigns.
The trouble is that an elementary grounding in science is enough to know that different races will be different in all kinds of ways, it's just a question of by what measure, in which direction, how much and how meaningfully.
By the time most people are eight years old, they have learned that no two snowflakes are the same. The reason for this is that there are no two identical things anywhere in Nature. There are no two identical people, or mountains, or even worms. All are different by virtue of the fact that there are no two identical things anywhere in the material world.
A more advanced understanding of Nature, in particular evolution, teaches us that no two subgroups of the human species will have gone through precisely the same selective pressures over the course of their biological past, and therefore no two subgroups of the human species will be the same either. This is true no matter which measure one uses. In order words, all subgroups of the human species are different, despite the presence of underlying similarities.
Therefore, we can conclude that the Equalitarian Dogma doesn't stand up to even the most basic scientific scrutiny. It's not just that the evidence doesn't support it – elementary scientific principles rule it out from the beginning. However, the Equalitarian Dogma and its supporting dogmas such as the Blank Slate Theory still hold immense sway among the vast majority of people unqualified to understand the science.
The Blank Slate Theory holds that genetics have no influence on a person's behaviour or personality – all of their behaviours can be best explained by reference to the environment in which they were raised. Humans are born into the world as if a tabula rasa – or blank slate – upon which practically anything can be inscribed.
This is the basis of the Equalitarian Dogma. If we are all the same, then the only way to explain our transparent differences is by appeal to the different environmental influences that have been present during the lives of each person.
A corollary to the Blank Slate Theory is that, as people are simply the products of their environment and nothing else, it's possible to shape them into anything at all, simply by controlling the schedule of rewards and punishments under which they are raised. Any child could become a university professor or a gang member – it all depends on what shapes their minds when they are growing up.
It's true that human infants are born into a state of extreme juvenility, and that they learn very quickly by mimicking their elders. It's also true that the human brain at birth is the most plastic organ of any invertebrate creature. This means that human personalities are supremely malleable – but only up to a point.
The reality is that human behaviour can be shaped by the environment, but only with the bounds of possibility determined by genetics.
For example, the precise height of a man may be influenced by the quality of the nutrition that he received as a child, but this influence only applies to a particular range of height. A lack of nutrition might mean a man grows up stunted, skinny or even sickly, but it won't make him a dwarf. Likewise, it's not possible to reliably produce seven-foot tall giants simply by feeding them great quantities of food as children.
The reason why this is so important is because incorrectly understanding the reality about the human condition causes us to make terrible decisions.
The popularity of the Blank Slate Theory among political leaders in Europe caused them to open their borders to millions of Muslim and African immigrants this century, in the belief that those people could simply be conditioned into becoming the same as the native Europeans. Everyone knew they were different, but because of the Blank Slate Theory it was assumed that their children would grow up just the same as any European.
The idea was that, owing to the immense gratitude they would have from being so generously raised from the filth of their home countries, the Muslims and Africans would throw off their old cultural values like so many iron shackles, and embrace the cultural values of Europe. Having done so, they would then be identical to other Europeans.
The reality, of course, was that these Muslims and Africans behave differently to the natives for genetic reasons, and cannot simply be conditioned to suppress their sexual and violent urges the same way a European can. Consequently, all the education didn't do much. Europe has learned this the hard way, through suffering hundreds of millions of sex crimes and crimes of violence, but they did not need to suffer in this manner.
They only suffered because they made incorrect assumptions about the nature of the human animal.
The Equalitarian Dogma has caused, and continues to cause, tremendous suffering to the people of the West by exposing them to the presence of people who aren't the same as Westerners when it comes to civility or natural empathy. The assumption that all people are exactly the same implies the assumption that all people commit sex and violence crimes at the same rate as Westerners. It leads to a failure to correctly discriminate between relatively harmful and relatively harmless influences.
The Equalitarian Dogma is the greatest evil in the world because it causes more suffering than any other dogma.
The most evil thing about it is that, like all dogmas, it makes violence between those who submit to it and those who don't all but inevitable. Those who submit to it truly believe that they are morally superior to those who don't, and that their opponents are Nazis who only believe in human biodiversity out of pure hatred. This sneering superiority makes dialogue with them all but impossible, and therefore makes violence all but inevitable.
The Equalitarian Dogma has led to a situation where there are now forty million Muslims and Africans in Europe who cannot realistically be integrated, and their continued and growing presence in Europe means continued and growing misery. Eventually one of two things will happen – this population will be expelled violently, or the ruling classes will be destroyed in the native people's desire to punish someone for what's been done to them.
Inaccurate, dogmatic conceptions of reality must be opposed at every turn. No matter how virtuous a person may feel for holding them, they cause nothing but misery.
*
If you enjoyed reading this essay, you can get a compilation of the Best VJMP Essays and Articles of 2018 from Amazon for Kindle or Amazon for CreateSpace (for international readers), or TradeMe (for Kiwis). A compilation of the Best VJMP Essays and Articles of 2017 is also available.
*
If you would like to support our work in other ways, please consider subscribing to our SubscribeStar fund.