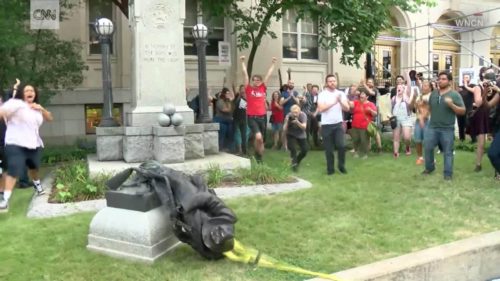 The stated goal of the Chinese Cultural Revolution was to purge all trace of capitalist and traditional elements from Chinese society, clearing the slate for the imposition of Maoism. This was soon regarded as a catastrophic mistake, for predictable reasons. This essay argues that the West is, right now, undergoing a similar cultural revolution.
The Communists of the West have now completed their Long March through the institutions. Their control of the education system is now so total that Western schools could hardly be more effective brainwashing institutions if they had been designed with that objective in mind. The social pressure to conform to a politically correct worldview is so great that the vast majority succumb, simply becoming repeaters of indoctrination.
These repeaters go on to repeat the politically correct worldview they are programmed with, and they do this with all the fervour of a person raised in a fundamentalist religion. And so, it is now assumed that, in every conflict, the side with the least amount of power is automatically the morally correct side, which is Marxist morality in a nutshell.
This moral value has now driven out most of the others. It is now widely believed that it's immoral to have a decent life, and that the more decrepit one is the more moral one must be. All winners are now losers, and vice-versa. The Western Cultural Revolution is under way.
Our ancestors, who built this decent life for us to enjoy, are no longer to be seen as heroes who crossed mighty oceans to carve nations out of forests and mountains with sweat and toil. No longer are they to be venerated for passing down a niche for us to survive in. Instead they are to be despised for the damage they did to those forests and mountains, and to the primitives that may have lived there before them.
We are destroying all of our contacts with the old, and signs of this painfully fashionable iconoclasm can be seen everywhere.
In the New World, it's evident from the tearing down of statues and the reinterpretation of history to cast white settlers and pioneers as oppressors and other ethnicities as victims. The noble savage mythology has seen a resurgence; it has become politically incorrect to point out the horrific rates of homicide and easily preventable deaths in native societies before European contact. The tribal warfare and mass slaughters that occurred before the land was pacified by Europeans are taboo to mention.
In Europe, it's evident from the shattering of national identities that has transpired in the wake of mass Muslim and African immigration. Propaganda inviting Germans to consider ethnic non-Germans to be "typisch Deutsch" has the effect of shattering the bonds that Germans have with their ethnic ancestors, who have of course been German for thousands of years.
The purpose of this Western Cultural Revolution is the same as it was in China: before Communism can be imposed on a population, all of their traditions must be destroyed, so that they have no solid ground from which to resist. Totalitarianism is total. The citizens must learn nothing from their parents or grandparents – all knowledge, all wisdom comes from the State and only from the State.
Part of this cultural revolution is the rejection of historical narratives that were inherited from the elders. For instance, the narrative that European people and Maoris co-operated for centuries to collectively raising these islands from the Neolithic Age to the highest standard of living in the world, is gone. It has been replaced by a narrative of exploitation and grievance, revenge and resentment.
This new narrative is intended to drive a wedge between white people and Maoris, disorientating, weakening and confusing them both – and making them both optimally conducive to instruction from authorities such as Government and corporate media (who are now working hand in glove to milk the cattle class of everything). Destroying the people's historical narrative of what it means to belong to their nation makes those people more malleable.
This Cultural Revolution is also Communism – not on the scale of China, but on the scale of the West. The traditional narratives of all Western nations are to be destroyed so that the populations will be maximally amenable to the mass immigration that the corporate class demands for the sake of pushing down wages. As this newspaper has investigated elsewhere, it's already impossible for the majority of young people to ever own a house on the wages that are being paid nowadays. But the corporate class will go further.
As ecological pressures lead to a shrinking economic pie, the ruling classes of the West need to find some way to convince the masses to accept a lower standard of living, and ideally without having to accept a lower standard of living themselves. They will do this by way of imposing a new ideology on us – likely some kind of globalist envirototalitarianism. To make us accepting of this new doctrine, they will destroy all contact we had with our national past and with our ancestors.
This is the Western Cultural Revolution, and it will be no less destructive and ruthless than the Chinese one.
*
If you enjoyed reading this essay, you can get a compilation of the Best VJMP Essays and Articles of 2017 from Amazon for Kindle or Amazon for CreateSpace (for international readers), or TradeMe (for Kiwis).