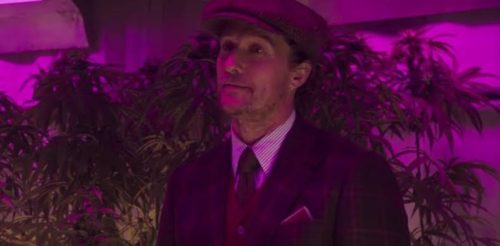 Guy Ritchie's latest crime caper film, The Gentlemen, is the rollicking, romping gorefest that one has come to expect from the director of Snatch. Behind the larger-than-life characters and the brilliant dialogue, however, are a few hints about where society is going, and a few things made to look normal that aren't usually normalised. This article explains.
Cannabis users who stopped to think about it may have noticed a few things in The Gentlemen that are different to the usual messages contained within big-budget films. Normally alcohol, tobacco, adrenaline and oxytocin are all portrayed as acceptable forms of enjoyment, but cannabis is not. Cannabis tends to get lumped with opium and heroin as a drug of despair.
The hero of the story, Mickey Pearson, is a British cannabis tycoon. The character, played by Matthew McConaughey, is in charge of an empire that produces 50 tons of skunk every year. Yes, he has done some bad things on the way up through the underworld, but he's very much a moral player, someone with far more class than the average criminal.
This weed-dealing protagonist is presented as the good guy, who the audience is invited to sympathise with. Not a good guy – because he's certainly capable of violent crime still – but the good guy. This makes a change from the usual popular culture treatment of cannabis users. Aside from this central fact, several scenes in the film serve to normalise the idea of cannabis in the eyes of the audience.
In one scene, Mickey speaks to a Chinese gangster and heroin dealer named Lord George. Mickey makes the point that the drug he himself deals doesn't kill anyone, unlike the heroin that George deals. It's uncommon for a popular culture film to draw a distinction between cannabis dealers and "other" drug dealers. Usually the two are lumped in together, but here Lord George is presented as distinctly less moral than Mickey.
In another scene, Mickey's henchman Ray (played by Charlie Hunnam) smokes a joint while expressing his disgust for heroin users. While rolling it up he expounds upon his weed preferences, including his belief that the right mixture of cannabis and tobacco is 50:50. In this scene, we are invited to sympathise with the cannabis-smoking Ray, whose classy demeanour presents him in sharp contrast to the heroin users around him.
In yet another scene, the major antagonist is trying to bargain Mickey down on the selling price of Mickey's business. The antagonist makes the point that cannabis will become legal soon and therefore his enterprise would have to compete with the legal market, which inspires Mickey to demonstrate that his business has been future-proofed already.
The point that cannabis will become legal soon, and therefore that the relative values of positions in the cannabis market will change soon, is made with certainty. Guy Ritchie has his finger on the pulse well enough to know which way things are going, and it's obvious from the international trends that moves towards cannabis liberalisation will soon occur everywhere. People have thought through most possibilities already.
This means that the plot of The Gentlemen is realistic enough to suspend disbelief and enjoy the story. It's a great film – and for cannabis users eager to see an end to the prejudice against them, it's great to see cannabis use normalised in popular culture.
*
If you enjoyed reading this essay, you can get a compilation of the Best VJMP Essays and Articles of 2019 from Amazon for Kindle or Amazon for CreateSpace (for international readers), or TradeMe (for Kiwis). A compilation of the Best VJMP Essays and Articles of 2018 and the Best VJMP Essays and Articles of 2017 are also available.
*
If you would like to support our work in other ways, please consider subscribing to our SubscribeStar fund.