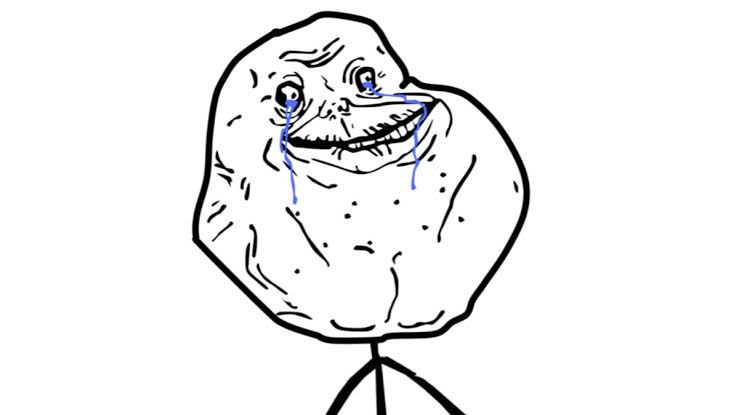 The history of Clown World has two major phases. The first is the decline into ever-increasing levels of depravity, something that we can call the Weimar Stage. The second is the self-immolation, involving ever-increasing levels of violence and brutality, something that we can call the Nazi stage. This essay discusses a phenomenon that can be found inbetween those two phases: the incel.
'Incel' stands for 'involuntary celibate'. Here 'celibate' is used to mean someone who doesn't have sex, and 'involuntary' means that they'd rather be having sex if they could. Of those who abstain from sex involuntarily, some are disfigured or infirm, but others are forced to abstain on account of that they aren't physically or socially attractive enough to find sexual partners.
'Incel' stands in contrast both to a sexually active person and to those who have chosen to abstain from sexual activity. The latter are known as 'volcels', which stands for 'voluntary celibate'. Volcels and incels occupy entirely separate worlds. Whereas the volcel is like a monk or shaman who has transcended the sexual impulse, the incel is like a horny dog who is dominated by it.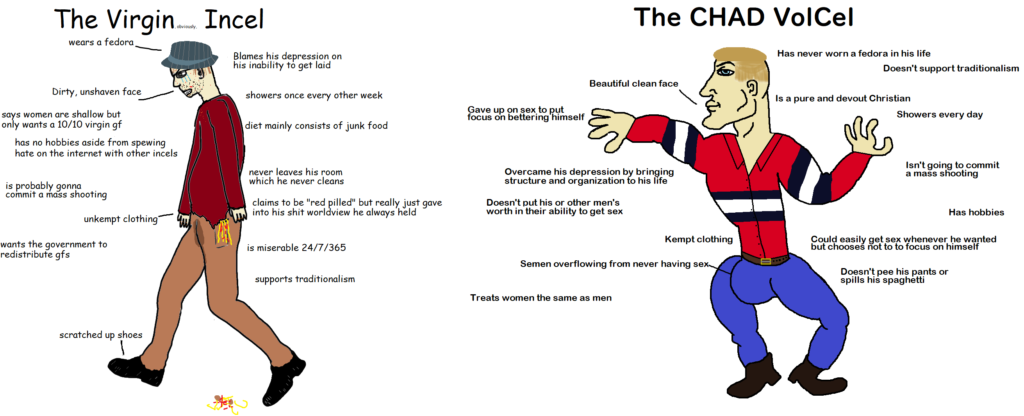 In practice, only men are referred to as incels. The reality is that almost every female can get laid if they want to, even if they're unusually ugly. Some women may be celibate on account of that they're unable to form an emotional connection with men, but even such women can still get laid if they can get their heads into it.
Internet dating apps have led to something called the "Incel Epidemic." Because the human mating process is gynocentric – i.e. women hold the vast bulk of the decision-making power – the bottom 50% or so of men now have little chance of finding a satisfying sexual relationship. Women can simply choose that their Internet dating profile doesn't get seen by (for example) men shorter than six feet tall – and they do.
This epidemic has been accelerated by the further breakdown of society. Ever more young men are autistic, and these men often have too much trouble interacting with women to ever get laid. Many of these young men have been rejected enough times that they have become bitter. Having become bitter they have turned away from women, and from the social occasions that offer chances to meet them.
The icing on the cake is the easy availability of competing pleasures. PornHub can deliver the most intense, hardcore and depraved pornography ever recorded in human history direct to the visual synapses of every 13-year old with an Internet connection. So if women seem like too much hassle, there are plenty of alternatives. Some will say that porn isn't real, but the incel would retort that most of the dating scene isn't real either.
All of these things have combined to make the proportion of young men not having sex higher than ever before. There have never been more incels in Western society. The danger with this is clear: not getting laid can lead to incel rage. Perhaps the most infamous example was that of Elliot Rodgers.
On May 23, 2014, Rogers went on a killing spree motivated by incel rage, claiming six lives and wounding 14 others. He left a manifesto detailing his motivation for the killings. In it the explained that he was angry at women for rejecting him, and jealous of sexually active men for sleeping with those same women. This deep-seated resentment exploded in violence, as it so often does.
Many people are concerned that, as the proportion of incels continues to increase, the risk of other young men doing an Elliot Rodgers increases. Many incels have yet to do so because they still believe that they can get laid. But as society disintegrates further, more and more of them will turn away from society in resentment. The incel epidemic promises to get worse and worse.
The nightmare scenario is that another Hitler rises up to channel the incel rage against their enemies. The original Nazi movement was partially motivated by the everyday man's horror at how slutty and degenerate the everyday Fraulein had become under the Weimar Republic, and a future totalitarian movement could use incel rage to gain power. A new Hitler could blame Jewish media influence for why young men can't get laid any more.
As this magazine has written about previously, the incel problem is older than the human species. As civilisation has developed, we have also developed a number of solutions to this problem, some more effective than others.
The Abrahamic solution to the incel problem, favoured by many men still today, is to make women into second-class citizens. In practice, the physical dominance of men will always make this option possible. This solution arranges things so that every man gets one woman, and if she doesn't like it she gets beaten or raped into submission. It appeals naturally to those of a Semitic mindset, but does not appeal to those of an Indo-European one.
Another solution that people joke about, some more jokingly than others, is state-mandated girlfriends. This solution appeals to those men who work, but whose income is not sufficient to really impress women – in other words, whose income enough to raise a family on. It also appeals to the autistic segment of the male population that cannot into charming women.
Yet another solution is to allow rich men to marry multiple women. This solution has been used by many different cultures at different times, usually after a great war has caused a shortage of suitable men. It could be argued that the West is in the process of losing a great spiritual war, and therefore many men are already spiritually dead. It might be better, then, to allow spiritually extant men to marry multiple women.
The ultimate outcome of the incel epidemic is not clear. What is known, however, is that sexual frustration regularly manifests as violence in countless numbers of vertebrate species. There's every chance that, as the incel epidemic increases in magnitude, the incidence of incel rage-based chimpouts increase in frequency. The energies involves may even contribute to a great collective chimpout.
*
This article is an excerpt from Clown World Chronicles, a book about the insanity of life in the post-Industrial West. This is being compiled by Vince McLeod for an expected release in the middle of 2020.