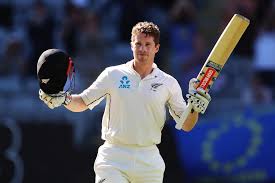 Fewer Black Caps players in recent times have come in for more stick than Henry Nicholls. Frequently derided as a passenger, many commentators have been calling for Hesson to get rid of him for good. This article will argue that not only is Nicholls a legitimately good batsman already, but we ought to accept that he'll be in the Black Caps for a very long time.
Black Caps supporters have been spoiled rotten in recent years. We have Kane Williamson averaging 51, Ross Taylor averaging 47, and a bunch of players like Tom Latham, Jeet Raval and BJ Watling averaging around 40. It's probably our best ever batting lineup, even surpassing the Wright-Jones-Crowe one of the late 1980s and early 1990s.
It's so good that we've failed to appreciate the quality record that's slowly being established by our incumbent No. 5, Canterbury's Henry Nicholls. After 17 Tests, Nicholls has 837 runs at 38.04 – not spectacular on the face of things, but if we look deeper there are some very encouraging trends in those numbers, not least an average of 49.25 over his last ten Tests.
The vast majority of quality international batsmen don't hit the ground running, as it takes a while to adapt to the top level of the game. Let's contrast Nicholls's returns after 17 Tests to the great Kiwi batsmen: Kane Williamson, Ross Taylor, Martin Crowe et al. After 17 Tests, Williamson averaged a mere 29.80; Crowe 24.88. Taylor did not get thrown in the deep end as young as Williamson and Crowe, but after 17 Tests he was barely ahead of Nicholls, at 39.46.
Tom Latham's average after 17 Tests was also 39. All this tells us that, even by way of comparison to New Zealand's best, Nicholls stacks up pretty good. Some might criticise his style, but he's scoring the runs. Leaving aside the overall numbers, Nicholls has succeeded in playing a number of excellent innings in tough conditions.
His first excellent innings may have been the 116 he scored in the Second Test of South Africa's 2017 tour to New Zealand. Nicholls came in at 21/3 after the dismissal of Neil Broom and scored a counter-attacking 116. The Black Caps still lost, but Nicholls's maiden Test century came against incredibly skilled bowling that had already done early damage.
Less heralded is Nicholls's 76 in this Test against South Africa in South Africa. The Black Caps lost heavily – the reason why Nicholls's effort is not feted – but it would have been a humiliating loss were it not for the 76 he scored in the Black Caps' second innings, coming in at 7/4 after Williamson had edged a cut to slip. 76 runs might not be many, but coming in on a tricky wicket against superb bowling when his team's top order had been obliterated, it was an innings of exquisite skill.
The crowning work was of course this week's 145* against James Anderson and Stuart Broad, on a pitch where England had been dismissed for 58 and no other batsman had passed 33 aside from Kane Williamson. Anderson came into the match as the world's No. 1 Test bowler and with conditions expected to suit him, but neither he nor Stuart Broad succeeded in dismissing the Black Caps No. 5.
If one considers these innings in tough conditions alongside Nicholls's generally excellent shot selection, it seems like he has all the tools, including the most important one – the right mind for the game. His numbers might not be outstanding, and no-one's claiming that he's going to be another Williamson, but if he keeps improving at this rate he could fashion an excellent career.
It's time for Black Caps fans to accept that Henry Nicholls belongs alongside Williamson, Taylor, Latham and BJ Watling as an established batsman in this Black Caps Test side.
*
If you enjoyed reading this essay, you can get a compilation of the Best VJMP Essays and Articles of 2017 from Amazon for Kindle or Amazon for CreateSpace (for international readers), or TradeMe (for Kiwis).