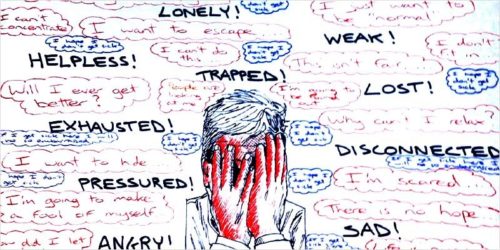 Everyone knows what it feels like to be anxious. The clammy hands, the tightness in the gut, the dizziness, the sudden need to urinate. Where anxiety becomes a psychiatric problem is when this anxiety gets out of control, causing suffering and an inability to get through everyday life. This article looks at how to write engaging and believable characters who suffer from Generalised Anxiety Disorder (GAD).
One cluster of problems that people with GAD tend to have relates to restlessness and irritability. They think too much about what might go wrong. A number of small problems can then have the tendency to build up and to provoke an outburst over something small. Often a person with GAD will hit their limit and explode, to the astonishment of others around them who didn't appreciate the underlying anxiety.
Other characters might see the usual signs of anxiety, only writ large. They might notice the signs of despair in the face – tight lips or a pallid look. The character with GAD might tap their feet a lot, fidget or stammer. Other characters might be able to detect and increase in the tension level of the room when someone with GAD is present.
The author might prefer to be more subtle, however. A character with GAD might to prone to explosive anger or hysteria, but the other characters might not be able to perceive the anxiety that underlies the fractiousness. They might also be prone to mind blanks from the anxiety. The other characters might only perceive the surface expression of the GAD, leaving the reader to draw their own conclusion.
For instance, people with GAD tend to smoke a lot of tobacco. If the protagonist of your story has GAD, it might be that they're reaching for the cigarette packet every time the telephone rings. If the protagonist of your story encounters someone with GAD, it may be that the constant presence of tobacco smoke or smell causes them them to realise that that character has an anxiety disorder.
Insomnia is another common sign. If the protagonist of your story is an insomniac because of GAD, this might be something close to a living hell; a nightly torment that they are forced to endure. Other characters will be able to pick it in their face as well – they will look tired, with puffy eyes and a downcast look. They will look every bit like someone for who life is difficult.
People with GAD, like many people with mental disorders, have a tendency to suffer low self-esteem. As with many other conditions, it's not easy to tell where the border between the mental disorder and personal weakness is. A character with GAD might frequently be asking themselves if they're a coward, or if they're really cut out for the challenges of life. Naturally such an attitude will eat away at their self-confidence.
Intertwined with this is the reality that people with GAD will often not be treated too well by other people. For one thing, anxiety tends to be contagious. If another person is anxious it's hard to properly relax around them because of the chance that they might blow their top any moment. For another thing, anxiety tends to make people selfish, because the focus is on the desires of the self and not the needs of others. This selfishness tends to be reciprocated.
GAD can cause some of the same thought-loops and obsessional thinking as other psychiatric conditions. With generalised anxiety it's easy to become anxious about being anxious, especially once one has become conditioned by unpleasant physical side-effects of worry. A character with the condition might feel highly anxious every time they feel a slight gut disturbance or chest pain, fearing that death has finally come.
Although there's a shared component of extreme anxiety, GAD is distinct from phobias. Phobias (as discussed at length here) are fears of specific things that are hard to escape. GAD is also distinct from social anxiety. People with social anxiety tend to only feel anxious in anticipation of the risk of social judgment, whereas people with GAD tend to be anxious all the time.
GAD is also distinct from Obsessive-Compulsive Disorder, but several patterns of thinking overlap between the two. In particular, people with GAD are prone to worrying about things like whether or not they left the stove on when they left the house. Because anxiety is always present in such people, and because the risk of burning down one's house is (reasonably) something that many people are cautious of, people with GAD are frequently triggered into panic by such common concerns.
The best thing about GAD from an author's point of view is that virtually all of the readership will be able to identify with it. Almost everyone knows what it's like to feel unpleasantly high levels of anxiety, so GAD will also be reasonably easy to identify with. Probably they also are aware of how unpleasant it is to be around highly anxious people, so they can identify with that also.
*
This article is an excerpt from Writing With The DSM (Writing With Psychology Book 5), edited by Vince McLeod and due for release by VJM Publishing in the summer of 2018/19.