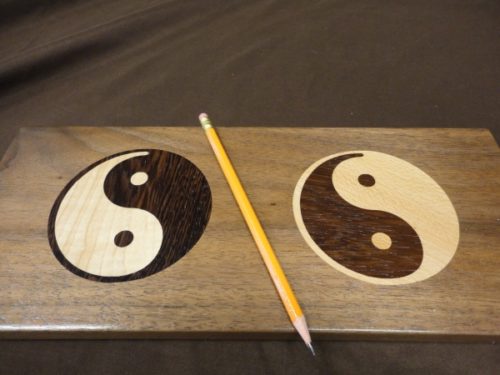 If one wishes to divide the world into two halves, a problem immediately arises: on what basis does one make the division? There seem to be an infinite number of dimensions that a division can be made along. This essay argues that there are two orthogonal, fundamentally different ways to divide the world in two, and this leads to four elementary perceptions.
In its initial state, perception is untrammelled. When consciousness is united with God, one is aware of everything. From this state, the only way that change is possible is for this perfect perception to become occluded somewhere. Somewhere, consciousness must turn to unconsciousness, light to dark, warm to cold.
There are two ways to look at this inevitable fall from union with God. The first way is to simply perceive the change; the second way is to judge the change. This dichotomy is true of all distinctions between feminine and masculine, as the feminine is associated with the perception end of the perceiving-judging spectrum, and the masculine with the judging end.
This first way, making the choice to perceive, is the feminine way. This way divides the world into light and dark or hot and cold, where no judgment is made about one of the two being better than the other. The feminine way of dividing the world does so horizontally, in that the halves are seen as interdependent and as feminine and masculine.
The second way, making the choice to judge, is the masculine way. This way divides the world into good and bad, where good and bad are different to (but overlapping with) the feminine division of yin and yang. This way of dividing the world does so vertically, in that one half is judged to be worth more than the other half. Good is set above bad.
These two perceptions are just perceptions. Neither of them is right or wrong, and that isn't important in any case. What is important is when these perceptions are useful, because either is useful in some situations and not in others.
Masculine is good when you have just come inside from the rain. Then, masculine is a warm cup of coffee. Feminine is good when you have just come inside from a hot day of playing sport in the Sun. Then, feminine is a cool beer. So either masculine or feminine can be good or bad in the moment, without a moral judgment needing to be made.
Likewise, judging is good when deciding whether to let a person into your house. It's important to make sure that a person is not bad before opening your doors to them. Perceiving is good when trying to enjoy a piece of music, because it's enough to just experience the sound and to let oneself by raised and lowered by it. Judging might take the fun out of it.
So the decision whether to perceive or to judge in any given moment depends on the environment a person is in and the situation around them. Generally speaking, if things are relaxed then people are inclined to perceive and if they are stressful people are inclined to judge. It also depends on inherent personality characteristics: women are more likely to break towards perceiving if in doubt, while men are more likely to break towards judging.
In all, this means that there are four different perspectives that one can take to anything in the world. Any other thing can be treated as either good, evil, yang or yin, depending on whether one chooses to primarily judge it or to primarily perceive it. Whichever of the four is chosen only makes sense in reference to the other three not chosen: bad is non-perceptive, non-good; good is non-perceptive, non-bad; feminine is non-judgmental, non-masculine, and masculine is non-judgmental, non-masculine.
This way of thinking (of dividing four elementary perceptions into two groups of two, based on approach) represents a middle point between the vertical, masculine logic of clay-iron-silver-gold and the horizontal, feminine logic of earth-water-air-fire. It might therefore claim to be a way of thinking that represented a higher degree of balance than the other two.
It also leads to them both after a small amount of extrapolation, because the distinction between good and evil is essentially identical to the distinction between precious (gold and silver) and base (iron and clay). Here gold distinguishes itself from silver by being double good, because silver is relatively bad as far as precious elements go. Likewise, iron is good in comparison to clay, because it is hard and can be used in tools, and is therefore relatively good as far as base elements go.
Likewise, the distinction between masculine and feminine is essentially identical to the distinction between warm (fire and air) and cold (water and earth). Here, fire distinguishes itself from air by being double masculine (i.e. it is hot and dry, not just hot), and earth distinguishes itself from water by being double feminine (i.e. it is cold and unyielding, not just cold).
*
If you enjoyed reading this essay, you can get a compilation of the Best VJMP Essays and Articles of 2017 from Amazon for Kindle or Amazon for CreateSpace (for international readers), or TradeMe (for Kiwis).