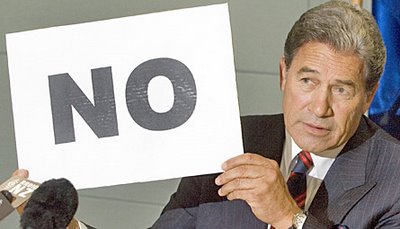 The New Zealand First Party won 8.7% of the votes in the 2014 General Election, which entitled them to 11 Parliamentary seats. Strategic blunders saw them fall to 7.2% of the vote in 2017, still above the 5% threshold but precariously so. New Zealand First is at risk of committing another strategic blunder by opposing Chloe Swarbrick's Medicinal Cannabis Bill, and this article will explain why.
Dan McGlashan's Understanding New Zealand provides us with an explanation for what happened here. We can see that the correlation between being Maori and voting New Zealand First was initially very strong, at 0.66 in 2014, when they did very well in the Maori seats. By 2017 the strength of this correlation had fallen to 0.38, as a large proportion of that Maori support abandoned the party.
Between 2014 and the 2017 General Election, New Zealand First came out in opposition to those same Maori seats in which they had done so well. This was a massive error because Maori people are extremely reluctant to cede any kind of political power to the Crown, for the understandable reason that when they have done so in the past, they ended up losing heavily from it.
New Zealand First were punished at the ballot box in 2017, losing 1.5% of their vote, mostly from Maoris who switched back to to Labour.
Between 2017 and the 2020 General Election, we may see another fall in New Zealand First support, and for similar reasons, only this time it may be catastrophic. The difficulty is that Winston Peters risks betraying the wishes of many of the people who support their party by opposing Swarbrick's Bill.
On the Bill, Peters is quoted as saying "It goes far too far. There's no restrictions at all, it's random, it's haphazard, it's free for all." Whether this means New Zealand First will support the Bill through its first reading or not is unclear, but if they vote to dismiss the Bill they run the risk of self-destruction, because they will alienate many of their core supporters.
Invalid's beneficiaries are heavy supporters of New Zealand First – the correlation between being on an invalid's benefit and voting New Zealand First in 2017 was 0.47, which is moderately strong. Many of these invalids have found medicinal relief in cannabis, which is reflected in the strong correlation of 0.79 between being on an invalid's benefit and voting Aotearoa Legalise Cannabis Party in 2017.
These stats suggest that there are a large number of cannabis-using invalids who voted New Zealand First at the last election, and further New Zealand First opposition to cannabis law reform risks alienating these people further.
Although New Zealand First does get more support from older people than younger ones, this is nowhere near as pronounced as most people think it is. The correlation between median age and voting New Zealand First in 2017 was only 0.26, in comparison to the correlation of 0.78 between median age and voting National in 2017.
Therefore, concern about the opinions of elderly Boomers with regard to cannabis ought not factor too heavily in New Zealand First's calculus. The vast majority of young people support proper cannabis law reform, and New Zealand First risks tarnishing their image among these voters through their conservatism on this issue.
Perhaps the biggest risk that New Zealand First runs by opposing this medicinal cannabis bill is through losing the support of the New Zealand-born, who are not only the biggest New Zealand First supporters by far but also the biggest cannabis law reform supporters by far. The correlation between being New Zealand-born and voting for New Zealand First in 2017 was 0.54, which is moderately strong, but the correlation between being New Zealand-born and voting for the Aotearoa Legalise Cannabis Party in 2017 was 0.73.
Cannabis use is an intrinsic part of Kiwi culture, and it's not going anywhere. If the New Zealand First Party really wants to make good on its pretensions to represent Kiwis and our culture, they need to accept the fact that we really enjoy using cannabis and are going to keep doing it.
New Zealand First might be tempted by conservative instincts to oppose this bill, but you can't piss directly in the face of your own supporters in that way and expect that they will turn out to support you when you ask for it at election time. Maoris, young people and invalids are all heavily impacted by our ludicrous cannabis laws, and young Maoris doubly so. They have been crying out for relief, and a recreational alternative to alcohol, for decades.
New Zealand is already 22 years behind California on the medicinal cannabis issue, and New Zealand First is causing this country to fall further and further behind, mostly at the expense of their own long-term voters. If they don't keep up with the state of play and research in other jurisdictions they risk destruction at the hands of the voters.
*
If you enjoyed reading this essay, you can get a compilation of the Best VJMP Essays and Articles of 2017 from Amazon for Kindle or Amazon for CreateSpace (for international readers), or TradeMe (for Kiwis).