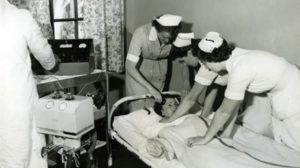 Giving someone medical 'treatment' against their will and very arguably to their own long-term detriment is explicitly forbidden under Section 11 of the New Zealand Bill of Rights Act. Despite this, it happened on at least five occasions last year in New Zealand with electroshock therapy alone. How?
The answer lies in the Mental Health Act. Specifically Section 60, which allows a psychiatrist to override the Bill of Rights Act if they feel that it's in the best interest of the patient.
Note that the will of the patient is considered a non-factor here.
Note also that a short few centuries ago, people were burned at the stake because authority figures decided that it was in the best interests of their immortal soul. Have we really come out of the Dark Ages? One suspects that the people getting electroshock therapy despite having explicitly refused consent may be inclined to think not.
Section 59.4 of the Mental Health Act reads: "The responsible clinician shall, wherever practicable, seek to obtain the consent of the patient to any treatment even though that treatment may be authorised by or under this Act without the patient's consent."
Who decides what is practicable? Certainly not the patient – and here the problem lies.
If treatment may be authorised without the patient's consent by the Mental Health Act then the Mental Health Act overrides the Bill of Rights Act in New Zealand.
There's only one reasonable conclusion to draw from this: mental health patients are lower than criminals in our society.
This proposition can be supported with a little thought.
It's a common experience for a mentally ill person to come into contact with a system that refuses to help them, especially if that person's illness makes it difficult to hold down a work schedule (or to work full stop) and so they need financial assistance.
Even worse, there is no obligation whatsoever on the part of the mental health services to make sure that the people who come to them for help are treated fairly.
Complaints against abusive mental health practitioners are usually treated with the same stonewalling as complaints against soldiers or police officers. Once a person is diagnosed with a mental illness, any allegation of abuse they make is simply written off as a delusion.
Contrast this state of affairs with what happens if a person chooses of their own free will to chop the head off another human being and rape the corpse.
In the case of such a grisly, senseless rape-murder, that murderer will be provided with a lawyer to guide them through the whole process of arrest, detention, custody, trial, sentence and aftermath, making sure that at each step they are fully aware of their rights. That lawyer, who will be provided to a murderer for free if they have no money, will ensure that nothing untoward happens to his client at any point.
If the murderer doesn't like the punishment handed down for his act of murder he has the right to appeal to a higher court (his lawyer will naturally advise him at length here).
And if justice is still not done to the murderer's satisfaction, there are Supreme Courts to help him, Ombudsmen, Police Complaints Authorities etc.
There is nothing like that for mental health patients in New Zealand. If you need a benefit because you are in an advanced state of psychosis and don't want to starve to death in the meantime, you have 30 minutes with a psychiatrist and if you can't convince them in that time it's fuck off and die for you.
No appeal to a higher authority, no-one advising you of your options, nothing. Just out onto the street to fend for yourself, even if you've paid taxes for many years. The assumption seems to be, then, that you were just a parasitic malingerer trying to bludge a benefit.
In New Zealand it's easier to find a doctor to perform electroshock therapy on a patient who has explicitly withdrawn their consent (five cases known in 2015) than it is to find one who will help their patients acquire medicinal cannabis (zero cases known in 2015).
That's a sobering thought to anyone who believes the healthcare system is looking out for them.
If you want another, think that all the New Zealand has to do to destroy anyone deemed a thought criminal in 2016 is to find a psychiatrist who agrees and that psychiatrist will have the legal right to destroy that thought criminal's mind with 'medication' or 'treatment' that could have any desired effect out of all the neurological reactions known to human biochemistry.
One of the best understood of which is sedation.
The thought criminal could be placed on a medication such as Olanzapine, a heavy enough dose of which will slow down the mind of the patient/victim to such a degree that stringing together 'subversive' thoughts would simply not be possible. This 'chemical lobotomy' is how people are silenced nowadays, now that physical lobotomies are illegal.
Giving someone electroshock therapy when they have explicitly refused treatment is as barbaric as the corrective rape practiced in Africa to try and 'cure' women of lesbianism.
It's a very sad state of affairs when mentally ill people cannot have any confidence that the system they need to ask for help actually intends to help them. Yet, that is the state of affairs in New Zealand today.