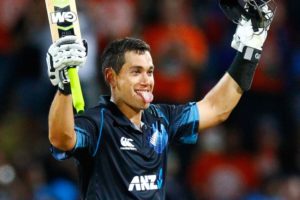 Last month, the Black Caps cruised to a 2-0 series win against Pakistan in New Zealand, the first series win against the side in over 30 years. The Second Test was notable for involving yet another Ross Taylor century, this one an unbeaten 102 which was also the only century of the series.
Let's get one thing out of the way first – it's obvious that the most underrated sportsman in New Zealand could not possibly be a rugby player, and the other sports apart from cricket are either not popular enough for dominance in them to be meaningful (union, league, hockey, netball) or they are sports in which no Kiwis are any good (soccer, volleyball, tennis, golf). So cricket it is.
Taylor, who has been mentored by none other than Martin Crowe, has also taken after Crowe in terms of statistical dependency. Taylor has now played 78 Tests to Crowe's 77, and the rest of their statistics are also strikingly similar.
Crowe ended his career with a test average of 45.36; Taylor is currently on 46.70. Crowe managed 17 tons in his Test career; Taylor has played one more match for one ton fewer. And both players favoured the No. 4 position – in 106 innings there Crowe averaged 49.39; Taylor has batted 4 on 123 occasions for an average of 49.99.
Their Test strike rates are very different: Taylor has 59.17 compared to Crowe's 44.65. Taylor has also been part of a generally stronger side – he has enjoyed 23 Test wins compared to Crowe's 16.
Considering that Martin Crowe has a place in the popular consciousness as New Zealand's second-best cricketer ever, the fact that Taylor can match him on the numbers is enough to suggest that he belongs, like Crowe, Sir Richard Hadlee, Chris Cairns, Shane Bond and Kane Williamson, in any conversation about the very best.
Moreover, Taylor isn't finished yet. He has been much more fortunate with injuries than Crowe, and could well end up playing 100 Tests. Since he keeps getting better with age – under Williamson's captaincy Taylor averages 52.27 in 16 ODIs and 70.75 in 8 Tests – and is not yet 33, Taylor could cement his spot in the pantheon.
Some of what Taylor has already achieved goes well beyond what one might expect of a merely excellent batsman. A handful of selected career highlights:
1. 290 in Australia, the highest ever score by a visiting batsman in Australia in Test history. The craziest thing about this innings is that it didn't end with a feather to the keeper or to swing, seam, drift, tweak or rip, but with a slog to square leg because that was the match situation. Selfless.
2. 154 not out in Manchester, in a match where England, who scored only 202 in the second innings, still won the match. Coming eight years before the 290 in Perth, this innings helps demonstrate that New Zealand has definitely got their money's worth out of picking Taylor.
3. Taylor has an ODI average of 43.15, which is higher than all of Ricky Ponting (42.03), Kumar Sangakkara (41.98), Brian Lara (40.48) and Martin Crowe (38.55). What's more, this is increasing – in Taylor's last 100 ODI matches, dating back to 2010, he averages an astonishing 49.28.
4. A sequence of three consecutive ODI tons, one of only six batsmen in history to have achieved this.
5. Taylor easily has more international tons than any other Kiwi batsman – 31 (16 in 78 Tests and 15 in 176 ODIs). His closest rivals are Nathan Astle with 27, Kane Williamson with 22 and Martin Crowe with 21. Even Stephen Fleming, for so long New Zealand's best batsman, managed a comparatively feeble 9 Test tons in 111 Tests and 8 ODI tons in 279 matches, about a third of Taylor's century rate.
On top of all this, Taylor was a great batsman for several years when we had no-one else who was much good. Back in 2006, when Taylor made his ODI debut, McCullum was a floater, Astle and Fleming were past their best and we had no-one else.
Instead of coming in after Martin Guptill (averaging 42) and Kane Williamson (47), Taylor shared the top order with Lou Vincent (27), Hamish Marshall (27), James Marshall (25) and Craig McMillan (28). The statesmanlike Stephen Fleming was the best batsman in this side, and he averaged 32.
And Taylor has achieved all of these things while – and in this he is almost unheralded – playing in a sport that Samoans (Taylor's mother is Samoan) generally don't play. Taylor is himself aware of this, noting that most Polynesians choose to play a rugby code.
In this sense – straddling the European and the Polynesian worlds – Ross Taylor is the best possible kind of New Zealander. When he scores a ton and gives his pukana for the crowd and those watching on television, it's symbolic of everything excellent about New Zealand. No-one who wasn't a Kiwi could do what Taylor has done in the way that he has done it.
Given all of those accolades, it seems almost a formality to declare Taylor the most underrated Kiwi sportsman of all time.