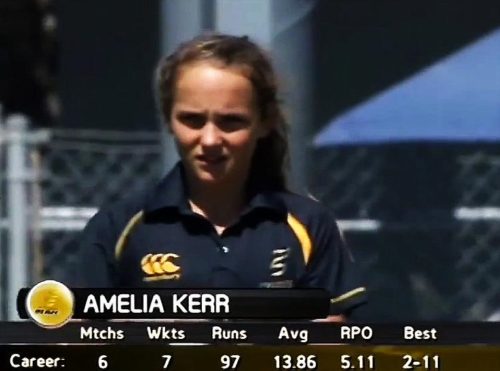 The main reason for dividing sports teams into men and women is because this reflects the basic division of labour that has occurred in nature: into male fighters and female reproducers. This is the same logic as dividing boxers into weight divisions – that the categories are so different that to pit them against each other is not a fair competition. As this essay will examine, one niche within sports where the female body has an advantage over the male one is that of legspinner.
The chance of a female competing with men in heavyweight boxing, absent some wicked cybernetic arms or computer targeting systems in bionic eyes, is practically zero, and the same could be said of Greco-Roman wrestling or rugby. These sports are too similar to actual fighting for women to compete with men, who are the result of millions of years of natural and sexual selection of fighting skills.
Cricket is, like other sports, a metaphor for combat, but it is not like other sports. It's not primarily a contest of strength, speed, size, height or aggression. Cricket is a contest of skill, guile, concentration and nerve – qualities that might be of immense value in the conduct of warfare, but not so much in actual fighting.
This is why the sportsmen who become the world's top cricketers are very seldom in top fighting shape. Kane Williamson, Steve Smith, Joe Root and Virat Kohli are far from musclemen; Rangana Herath, who just moved past 400 Test wickets, is known as "Fatty" for his distinctive pot belly and the less said about Dwayne Leverock the better.
There's a lot of skill in fast bowling, but physical attributes are crucial. Although the most skilled fast bowlers – like Dale Steyn, Trent Boult and Jimmy Anderson – are not particularly tall, they are all far from short. Moreover, any player lacking those skill levels almost has to be tall in order to make it.
In either case, women can't compete with men in fast bowling because so much of the action of slinging a weight (like a ball) is a function of shoulder strength, and shoulder strength is one of the ways in which men are stronger than women by the greatest amount.
There's a lot of skill in batting, but there's also a lot of strength. Williamson and Kohli might trade on skill but they are far from weaklings. No woman could realistically compete with either player, much less the heavy hitters like Martin Guptill, Chris Gayle, David Warner or Brendon McCullum.
As in the two categories of cricketer above, there's a lot of skill in spin bowling, but in this regard there is no benefit at all to being strong.
In fact, having big muscles might be a disadvantage. Muttiah Muralitharan, the single most successful spin bowler in the history of cricket, had famously rubbery wrists, extremely flexible, which enabled him to sling the ball with a whipping action that imparted incredible turn.
It's known that women are more flexible in the wrists, elbows and shoulders than men, which is partially a function of having less muscle mass. This flexibility ought to make it possible for female bowlers, like legspinner Amelia Kerr (see video), to put more spin on the ball for the same reasons that Muralitharan could.
However, the big thing when it comes to spin bowling is smarts. The bowler is trying to deceive the batsman, trying to make them play down the wrong line or put their feet in the wrong place anticipating spin in, for example, the other direction.
To this end they need a lot of variations. It seems like Kerr already has most of the variations – and speaking of variations, very few international men's cricket sides will have faced a bowler as short as Kerr, and therefore they will not be used to the trajectory her deliveries come from.
All this raises a question. Kerr currently has 20 wickets in women's ODI cricket at an average of 22, and it might be that the coaches of the Black Caps decide that her cunning, guile, variations and unpredictability make her more dangerous against the Black Caps' next opponent than the best legspinning male. Should Kerr then be eligible for the Black Caps?
Some might argue that the Black Caps are specifically a male representative team and so it doesn't make sense to pick a woman to play in it, in same way that no-one would select a man to play in the Silver Ferns.
Others would argue that the sport of cricket was only gender-segregated in the first place because of the unlikelihood that any given woman could compete with men, so if a woman is good enough to compete with the best men there is no reason to enforce segregation.
In any case, this column predicts that if Kerr would get the chance to bowl in a net with the Black Caps, the men would learn a thing or two from her.