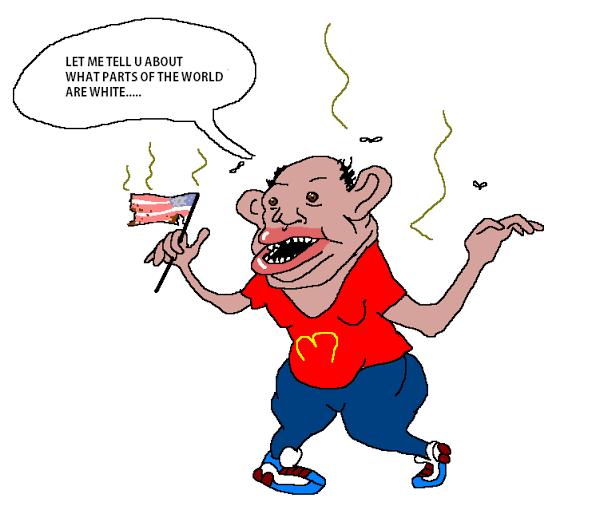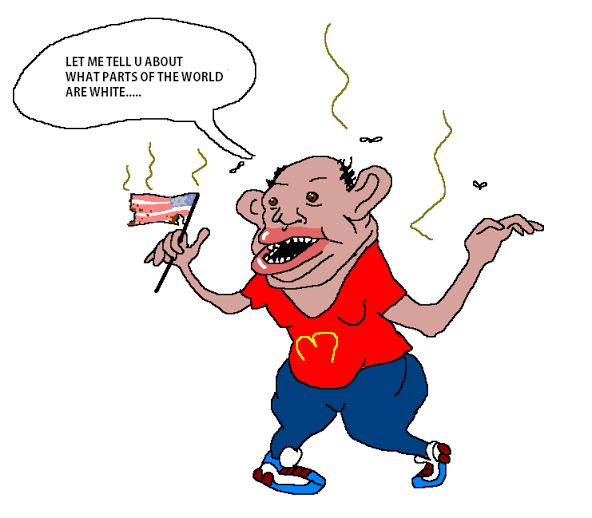 The eschatology of Clown World encompasses a number of endgame scenarios. One is "The Great Awakening," where the entire world rises into a higher spiritual dimension. Another is "The Boogaloo," an orgy of violence that redefines the world order. Another, as this chapter will examine, is called "The Muttening."
Everyone is aware that ethnic diversity is increasing in all Western nations. This is primarily because our ruling classes, beholden to international banking and finance interests, keep the immigration taps open to pump up house prices and to press down wages. They do this with the full support of those they have brainwashed into thinking that opposing immigration is racism.
But this diversity has both benefits and drawbacks.
Among the benefits are an increased richness of life, primarily manifested in an increased variety of food, music and other cultural expressions. It has become possible to meet people from a large variety of different cultures and to hear about their different perspectives on life, politics, religion and philosophy. It's also been possible to shag some of them.
The drawbacks are harder to talk about. This is partly because they are less obvious, but also because they are taboo. As mentioned above, the population at large has been conditioned to believe that opposing the mass immigration of cheap labour is racism. Many have even come to believe that pointing out any difference at all between two human groups is racism.
This has led to a number of probably unforeseen outcomes.
The reason why this rapid increase in ethnic diversity is called "The Muttening" and not something positive is for the same reason that a mongrel dog is called a mutt and not something positive. The depressing reality is that diversity destroys nations, a consequence of the fact that it makes it harder for the average citizen to relate to others. This is proven by science.
Scientific research shows a negative relationship between ethnic diversity and social trust. The greater the ethnic diversity of an area, the less people trust their neighbours. This has serious consequences for the viability of a country, because the less trust in a society the harder it is to govern. Less trusting people are less accepting of things that go against them and tend to fight and argue more.
This is why there is an association between increased diversity and lowered economic performance. Commerce is dependent on trust – for a modern economy to function, customers have to be confident that they're buying quality goods and services, and not rubbish designed to rip them off. When trust dries up, the wheels of commerce have trouble turning.
Ultimately, as was argued in this paper, "…when diversity is low in a society and people feel close to their fellow citizens, they can identify with one another and are hence more likely to trust one another." In other words, diversity makes every society shittier and generally less pleasant to live in. Diversity brings poverty and rage in its wake.
Another consequence of this sudden increase in diversity has been challenges of personal identity. As mentioned above, one of the results of diversity has been an increase in interracial marriage. Naturally, this leads to an increase in the number of mixed-race people.
Many of these mixed-race people find it difficult to assume a coherent identity. Often they are accepted by neither of their parent's groups. Men like Barack Obama are simultaneously too white to be accepted by other blacks and too black to be accepted by other whites. Obama managed to find a place in the world as an American, but many others live as ghosts, between two worlds.
Some earnest do-gooders have concluded that, if all of the different races in the world would mix together, there would no longer be any ethnic conflict. These people have never seen the state of Brazil. Consequently, these people agitate on the side of the international bankers and finance interests to destroy borders, ostensibly in the belief that to do so would help the "global working class".
This process of extreme race-mixing at both the individual and group level is known as The Muttening. The reduction of all the vibrant cultures of the world into one homogenised mass of consumer whores. A Starbucks, a McDonalds and an Apple store on every corner, and their patrons interchangeable with the patrons of any other large city. No-one knowing their neighbours, but everyone knowing the latest consumer fashion.
It's not clear how far The Muttening will go. The entire Western World may end up like Brazil and South Africa, or we may end up with a pan-Western Hitler figure who puts a stop to it all. It may trigger the Boogaloo, or it may trigger the aliens coming to Earth and accepting us into the Galactic Confederation. In any case – the longer it continues, the more fragile Clown World becomes.
*
This article is an excerpt from Clown World Chronicles, a book about the insanity of life in the post-Industrial West. This is being compiled by Vince McLeod for an expected release in the middle of 2020.
*
If you would like to support our work in other ways, please consider subscribing to our SubscribeStar fund.