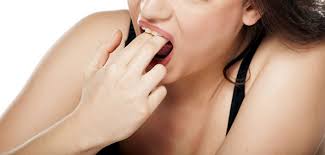 Bulimia nervosa (usually known as bulimia) is a psychiatric condition characterised by intense bouts of over-eating, followed by a "purge" of some kind. The condition is about nine times more common in women than in men, and is believed to affect 1% of young women at any given time. This article looks at how to write engaging and believable characters with bulimia.
The classic example of bulimic behaviour is to consume an abnormally large amount of food, and then go to the toilet to vomit it all up. It's worth noting that simply throwing up a lot, even after eating, is not sufficient for a bulimia diagnosis. The throwing up is not the main factor, as the condition is psychological and not physical.
It's also worth noting that bulimia is very different to anorexia, despite that both conditions are eating disorders caused by a nervous complaint. Bulimics and anorexics share many symptoms, in particular the obsession with food and body image, but there are major differences. Bulimics are often at or near a healthy weight (despite the unhealthiness of much of their activity), and anorexics do not binge eat as a general rule.
If the protagonist of your story encounters another character with bulimia, it might be a matter of slowly coming to the realisation. The character with bulimia might show signs of having thrown up a lot or recently, such as bloodshot, puffy eyes or burst blood vessels in the face. Other physical tell-tale signs are low energy and evidence of self-harm.
Another character might give away signs that they are falling into a pattern of bulimia. An obsession with dietary rules is a common early sign. A character developing bulimia might also develop a set of strict dietary rules that they expect themselves to abide by. These rules might seem obsessional to a second character, but the bulimic character is unlikely to appreciate this sentiment.
These rules are key to understanding the condition. Because consuming fewer calories than one needs to survive is not sustainable in the long-term, the strict dietary rules will inevitably be broken. This doesn't come with a sense of relief but a sense of horror and shame – feelings so intense that they have to be purged. In this state, vomiting often brings the desired relief.
If the protagonist of your story has bulimia, they are likely to live a very difficult life with a considerable amount of confusion. Thoughts of suicide are common, a symptom of both the condition itself and the difficult life circumstances caused by the condition. Also common are depressive and obsessive-compulsive thoughts, especially self-recrimination and rituals relating to food.
A protagonist with bulimia will probably experience a great deal of anxiety in their everyday life. This is not just because of the condition itself, with the neverending worry and guilt relating to food and body shape. It is also because of the social anxiety that comes with trying to keep their condition a secret. Your protagonist might find themselves telling lies to keep other characters from realising they are bulimic.
A character who develops bulimia may do so on account of exposure to media images that create an idea about what a human body ought to look like. It's common for teenage girls – especially those who have never previously thought about their bodies as things that sexually attract men – to develop an obsession with what their bodies ought to look like. Bodily self-hate is an inevitable consequence of this for some people.
Some societies that have not yet been exposed to sophisticated and manipulative Western advertising culture find it a shock when they finally are. Many people have been unaware of the possibility of hating their own body on account of it being the "wrong shape". Some cultures are naive when it comes to lies and lying, and are more easily affected by them. These cultures can see sudden spikes of bulimia rates when this advertising does come.
Like many other psychiatric conditions, bulimia carries an increased risk of depression, anxiety and self-harm. Thoughts like this form an unpleasant positive feedback loop, where the low self-regard puts a person at risk for bulimia and the bulimia causes low self-regard. A character with the condition may not realise that their thoughts are circular. On the other hand, they might be all too aware, and start losing sanity.
Also like other psychiatric conditions, there is a body of literature that suggests a strong correlation between having bulimia and early childhood abuse, in this case sexual. It's possible that the trauma of sexual abuse leads to some difficulty in handling thoughts and feelings related to one's own sexual attractiveness.
Bulimia is, along with anorexia and schizophrenia, one of the psychiatric conditions most likely to end in suicide. It is easily possible that such a fate will await a bulimic character in your story – after all, the average woman can no easier look like a photomodel than the average man can look like Schwarzenegger. However, like most mental illnesses, the majority of people with bulimia find some way to accommodate it in their lives.
*
This article is an excerpt from Writing With The DSM-V (Writing With Psychology Book 5), edited by Vince McLeod and due for release by VJM Publishing in the summer of 2018/19.