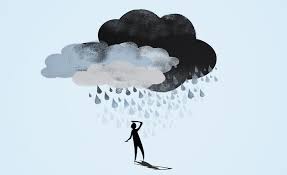 All of us know what it feels like to be sad, but few truly appreciate how it is to be clinically depressed. There's something about wandering ghost-like through an ashen world of dead feelings that is a challenge to express to those who are full of healthy, natural vigour. This article shares some tips for writing realistic characters who suffer from depression.
Depression (in the sense of a mental illness) is otherwise known as major depressive disorder. To be diagnosed with it, a patient has to meet certain criteria. 21% of the French population have been diagnosed with the condition at some point in their lives, which speaks to its prevalence in the modern world.
There are two obvious approaches here.
The first is to use thoughts. Conveying the innermost thoughts of a character is, in many ways, the ultimate power of the literary medium.
The kind of thoughts that go through the mind of a depressed person tend to be anxiety, sadness and fear. Life not only seems to have no meaning, but seems completely hollow and empty. Even thirty seconds is a sufficiently long time in which to experience some genuine psychological torment, and it seems all-pervasive and never ending.
It's important to distinguish depression from sadness. Depression is a mental illness, and as such it causes irrational thinking. A bereaved person can tell you that they expect to feel happy again at some point in the future once the shock has worn off; no such expectation exists for the depressive. It seems like it's going to last forever.
Of those people who have never been depressed, few understand the ways that guilt can eat away at the minds of someone who is. Depression is not like a physical ailment in the sense that one can easily justify taking time off from regular duties to recover. It's rare that a depressed person has the ability to think clearly enough about their condition to realise that they need a break.
It's far more common for a depression sufferer to end up consumed by guilt in their every waking moment, thinking about the things they should be doing in the time they are convalescing, and how they are letting people down by being weak. This reveals one of the worst things about depression: the way in which it feels like one is persecuting oneself.
The second obvious approach is to use the reactions of other characters to the depressed one. All mental illnesses have a marked social impact, and depression is no exception.
Depression is a sinister, insidious illness. In many cases, a person with it will not realise that they have it. The protagonist of your story might end up arguing and fighting with people all day because of sourness or irritability caused by the condition, all the while assuming that the fractiousness that caused it was natural and normal.
Some well-meaning friend might tell them that they have depression only to be told to piss off. To a depressed person, a friendly suggestion to "Cheer up" might well be taken as an insult. Constant irritability is as much a part of depression as sadness is, and a story might be best able to evoke this through the social side.
In other cases a person can't avoid realising they have depression, because other people will continually remind them of that fact. The protagonist of your story might be smarting from constantly being called a "miserable prick", and this might make them even more depressed. It might cause them to withdraw and plot revenge (or even to seek help – who knows?).
The fear of the loss of social bonds can be evoked here. This is a very powerful, primal instinct that almost everyone can relate to. People don't enjoy interacting with depressed people, and after a while the rejection may lead to the depressed person deciding that those others would be better off without them.
Note that stories featuring depressed characters don't need to themselves be depressing. In a way, every story about a depressive is a happy one, because any depressive who is still alive must have been able to find some reason to keep going.
This might be the most interesting part of the entire character. After all, it's objectively not clear why any of us should keep living, given the uncertain prospects for any happiness in front of us. A depressed person might exhibit a stronger will to live or a more beautiful nature than any other person who did not need to struggle through the condition.
Despite this, the reality of the depression experience is that it is one of the most terrifying and deadly of all illnesses, mental or otherwise. The temptation to take the ultimate step to end the suffering is always present, which makes the experience worse than a horror story in several regards.
*
This article is an excerpt from Writing With The DSM (Writing With Psychology Book 5), edited by Vince McLeod and due for release by VJM Publishing in the summer of 2017/18.