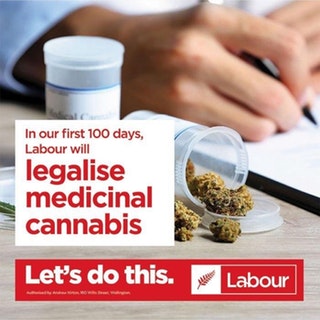 They promised that they would make medicinal cannabis legal in the first 100 days of a new Government. They lied. That's the long and the short of the medicinal cannabis "reforms" announced by David Clark and Jacinda Ardern today. No doubt it will be spun as a great victory for compassion and justice, but it isn't.
Home growers will be the most disappointed, because the "reforms" offer absolutely nothing to them. If you grow cannabis at home because you have found it alleviates your suffering – as tens of millions of Americans are legally allowed to do – you will still have to live in permanent fear of the Police knocking on your door and dragging you away to go in a cage.
Basically, under the proposed legislation, home growers are invited to go and fuck themselves. There is no word of any reduction in penalties for home growers, only for those who have less than 12 months left to live, and even they aren't allowed to grow cannabis. If you have a terminal illness (this being defined as an illness likely to kill you in the next 12 months), then you now have a defence against prosecution.
You can still be arrested, thrown in a jail cell with rapists and murderers and treated like a subhuman piece of shit by the justice system, but should you decide to protest, you will now be permitted to have a defence.
The Bill also "establishes a regulation-making power to set quality standards for domestically manufactured and imported cannabis products." In other words, the Labour Party intends to give full control of the New Zealand medicinal cannabis supply (if we ever get one) to the same pharmaceutical industry that has lobbied for decades to keep medicinal cannabis illegal. This is further underlined when the Bill declares "Most cannabis products produced internationally do not meet the quality and efficacy requirements of therapeutic product regulators such as Medsafe."
It sounds like the best result is that medicinal cannabis will become available through a pharmacy, at some indeterminate point in the future, once a Byzantine process of bureaucracy has first been established and secondly navigated. In other words, medicinal cannabis is still not legal, and there is no sign of home grow ever becoming legal.
Most worryingly of all, the Bill states that "no pure cannabidiol product made to reliable quality standards is currently available." This means that, according the quality standards enforced by this Bill, none of the medicinal products produced by the $20 billion cannabis industry in America are good enough, a clear sign that the "quality standards" demanded are not necessary or reasonable.
Clearly, this is another Psychoactive Substances Act – a piece of legislation intended to keep something fully illegal while giving politicians a plausible reason to claim that they are trying to make it legal. Peter Dunne successfully blocked cannabis law reform, while evading media heat, for over a decade using this method.
In summary, Jacinda Ardern is nothing but another vacuous corporate whore, exactly like John Key. She is lipstick on a pig. Just a pretty face on the same disgusting corporate agenda that has engorged itself on the New Zealand people for the past 30 years. Labour lied about signing the TPPA, and now they've also lied about reforming the medicinal cannabis laws.