The Sixth Labour Government is in no hurry to change the cannabis laws, which has seen New Zealand fall behind Zimbabwe and South Africa in terms of personal freedom. This reluctant approach to liberty helps explain why Andrew Little is so enthused about bringing in hate speech laws. As this essay will show, hate speech laws will only increase the suffering of the New Zealand people – but that may be by design.
Last week, Danish politician Rasmus Paludan was sentenced to two weeks in prison for breaking the Danish hate speech laws. He received this conviction after speaking in a video where he said that the average IQ of South Africans was 70, and that this intelligence level was too low to properly run the country. The conviction was upheld on appeal.
The video of him saying this was available on the homepage of Paludan's party, Stram Kurs, and someone who viewed it reported it to the Police (some readers will have already sensed a red flag here – yes, in Denmark you can rat other people out for racism, and they'll go to prison if they're found guilty of it).
What Paludan said about the IQ of South Africans is accurate, as shown in the table below, taken from Professor Richard Lynn's latest book, The Intelligence of Nations. Accuracy and truth, however, will be no defence against a hate speech accusation. The case of Paludan shows that New Zealand risks losing basic freedoms to speak if we introduce hate speech laws.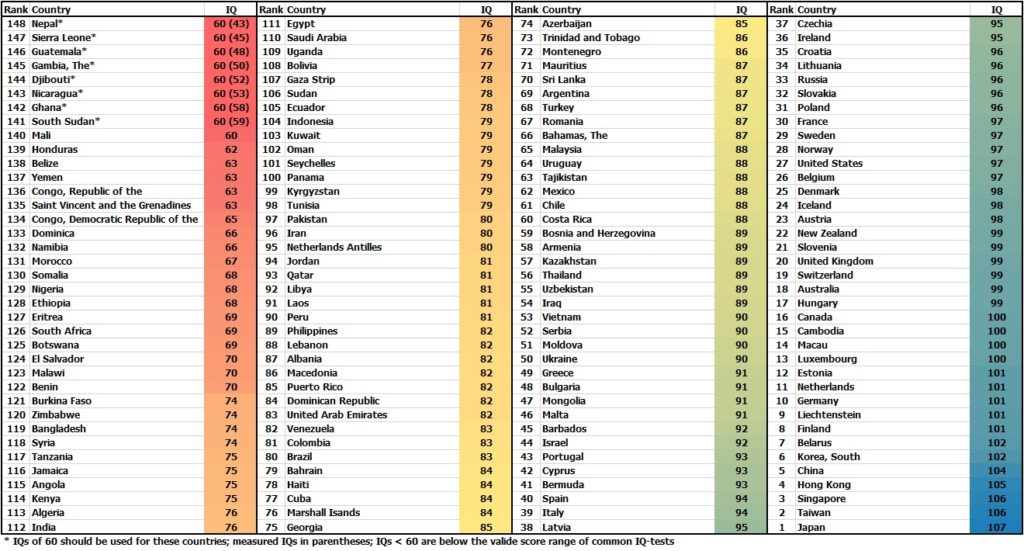 If hate speech laws were introduced in New Zealand, we could expect to see headlines like "Don Brash/Brian Tamaki/David Seymour Convicted of Racism" as certain political statements became illegal. It might sound ridiculous, and the Government will deny it, but literal facts will become grounds to put people in prison. This is the inevitable consequence of bringing in hate speech laws.
As shown by Paludan's example, it won't matter if you can back up what you say with science. A bunch of politicians and their assorted arse-lickers, none of who have any background in the science of intelligence testing, will decide what you're allowed to say and what you are not. The definition of hate will be entirely up to them, and they will choose the definition that best suits their interests.
In the judgment against Paludan, the judges decided that it was not illegal to say "neger" (c.f. 'Negro'), as he does several times in the video. The fact that they considered the possibility, however, is telling. It exposes that such a prohibition is under consideration: there are many who would like to make it illegal to say certain words, or to state certain things.
Imagine a world where it's a crime to say a word that your Government has forbidden you to say, or a crime to draw logical conclusions that your Government has forbidden you to draw. If you dare do either of these things, you have to go in a cage.
It sounds like the kind of law that might have been parodied by Monty Python or Comic Strip Presents as an example of cruel and unreasonable punishment. But it's the world that we are heading towards if we let Andrew "The Ditherer" Little and his fellow short-sighted control freaks override our right to free speech.
Hate speech laws mark the death of free speech. Once they are introduced, eventually anything that goes against the Government's agenda will be classified as "hate speech". Saying things that are scientific facts, backed up by decades of research and by the experts in the field, will be classed as hate speech if they alert people to the failures of the Government.
The reason why the Government wants to make it a crime to point out facts – like the low IQ of Africans – is because they want to import cheap labour. They are in bed with the globalist corporations. They know that if we're allowed to openly speak the truth about the effects of globalist immigration policy on the well-being of our nation, more and more people will come to resist that globalist policy.
Every globalist knows that a nation will sooner-or-later go down the toilet if it imports large numbers of people with an IQ of 70. But they don't care about that. All they want is cheap labour so that they can extract a quick profit from New Zealand. Then they move on, and leave us to clean up the mess. This is parasite capitalism, and it's the pre-eminent paradigm of our age.
Hate speech laws will lead to people getting sent to prison for pointing out scientific facts that the Government doesn't want attention given to. They will also lead to a culture of snitching as the Government employs people to handle the complaints. The end result is an East Germany-style hell society plagued by snitches and secret police. We should resist the introduction of hate speech laws at any cost, on the grounds that they are a violation of our inherent human rights.
*
If you enjoyed reading this essay, you can get a compilation of the Best VJMP Essays and Articles of 2018 from Amazon for Kindle or Amazon for CreateSpace (for international readers), or TradeMe (for Kiwis). A compilation of the Best VJMP Essays and Articles of 2017 is also available.