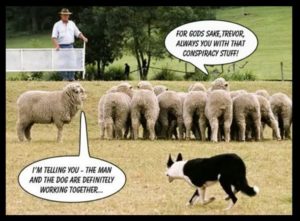 If a paranoid person earns themselves the title "conspiracy theorist" by seeing connections where they do not exist, then a coincidence theorist is someone who does not see connections where they really do exist. There are various reasons why patterns are not seen: stupidity, naivety, or simple lack of data are some.
The subject is discussed at length in Ben Vidgen's State Secrets, in which he notes the contrast between the scientific approach which is concerned with truth, and the political approach taken by the political classes and the corporate media, who "try to lull the public into believing that things happen by accident – the so called 'coincidence theory'."
It promulgates a state of mind akin to actually being a sheep, which is perhaps why it is so common in New Zealand. As George Carlin said, "Think of how dumb the average person is. Well, half of them are even dumber than that."
However, it is the average intellect who, by the sheer weight of their numbers, sets the public discourse in this country. They are the ones who buy the products advertised in the gaps of the mainstream media.
But if the public is too thick to join the dots then the mainstream media will not discuss the subject with them. There is no obligation to enlighten, to illuminate or to elucidate: short-term profit is the only prerogative.
The mainstream media is McDonalds, soccer, Hollywood – it is the lowest common denominator of culture. This lowest common denominator serves as a gatekeeper that excludes all subjects too complicated for the plebian hordes. Thus, any intelligent discussion of issues is naturally driven underground.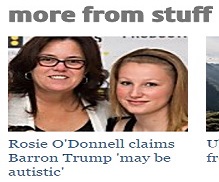 Above is an example of the kind of mindless drivel the mainstream media promotes – this from the 7th most popular website in New Zealand cyberspace.
Vidgen in State Secrets notes that a belief in coincidence theory is "a bit like thumbsucking. It is non-threatening, it doesn't require any thinking or stressing out…"
It's hardly surprising, then, that the mainstream media has, by 2016, completely abandoned any pretensions it may once have had to investigative journalism. Apart from one notable Kim Hill interview of Anne Tolley, they seem to have given a free pass to the establishment pedophile rings who have been revealed in Britain and America.
Perhaps a belief in coincidence theory is the natural thing for people who still have a childish and naive approach to life? After all, it takes a particularly cynical and adult mindset to properly grasp the volume of malicious lies spewed out by the political class and their tools in the mainstream media – not all have the grit for it.
For decades, dumb people have been able to shut down intelligent points by saying "Hurr, durr, conspiracy theory."
Perhaps this needs to be turned on its head. We need smart people being able to shut down stupid points by saying "coincidence theory."