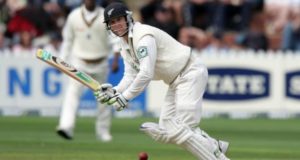 What do you do if you have a fantastically successful ODI opening batsman whose skillset is not particularly well suited to opening in Tests but on talent grounds alone cannot be left out of the Test side? There was an easy answer when the batsman in question was Nathan Astle 20 years ago.
The answer back then was simply to bat Astle at 5. Astle played 100 Test innings at 5 or lower, and averaged over 37 there. His most notable innings was the then fastest Test double century – 222 runs off only 168 balls.
Although the team that Astle came into in 1996 was far weaker than the one Martin Guptill is trying to break into, it seemed natural for the free-spirited, hard-hitting Astle to begin his career at 5.
Guptill never had the easy luxury of simply slotting into 5, mostly because Brendon McCullum had that spot nailed down and partly because the Black Caps were so desperate to find a decent opener that anyone with notable skill was thrown into the breach.
Nathan Astle averaged 34 with the bat in ODI cricket, and three runs more in Tests. Martin Guptill averages 42 in ODI cricket – three runs more would see him averaging 45. Moreover, Guptill's world-class fielding adds at least five runs to his value per innings.
A value of fifty runs per innings at No. 5 might sound fanciful given the returns we have so far got from him opening the batting. It should be emphasised, however, that opening the batting in Tests is not only very different to opening in ODIs, it is also very different to batting further down the order, as the opening Test batsman faces a swinging ball, first-choice bowlers who are not tired and an aggressive field.
Although the sample size is very small, Guptill has already played 6 innings at No. 5 – and he averages 68 there.
The other medium-term options for the Black Caps at 5 are Henry Nicholls, who has so far been less impressive there than Guptill was at opener, a promoted allrounder such as Anderson, Neesham or Santner, or blooding a youngster such as Will Young or Tom Bruce.
Guptill at 5 would be better than all of those options. Leaving a player of his talent out of the side because he did not succeed in a role not suited for him, when there is a vacant role perfectly suited to him, is madness.