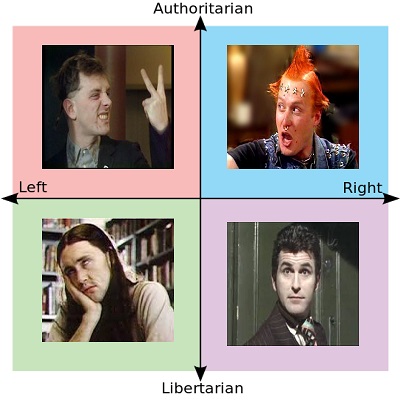 The most famous political chart puts everyone into one of four quadrants: authoritarian left and authoritarian right at the top, and libertarian left and libertarian right at the bottom. It's fashionable to claim to be libertarian, but not everyone who does so really is. This essay looks at how to tell if you're really a libertarian.
The political consensus of the Western World is still profoundly affected by the horrors of the authoritarian governments of the 20th century.
Authoritarian governments in the form of Nazism and Communism caused the deaths of some 150 million people, directly or indirectly, through a variety of wars and famines. These acts live on in infamy with names such as the Holocaust and Holodomor, the very mention of which summon images of starvation, misery and death.
Since then, it's been extremely unfashionable to be authoritarian. But it's still tempting – as tempting as it ever was. The thought that some ideas are not merely great, but so great that they have to be forced on the populace at gunpoint by a government that will kill its own citizens before it will compromise, is one that reoccurs throughout human history. All that's necessary for it to actually become a reality is a sufficient degree of arrogance, or self-righteousness, on the part of the rulers.
Once a government has enough hubris – and whether they are left or right doesn't matter here – they will start thinking that the lessons of history don't apply to them, or that their actions are so righteous that human nature will change in recognition, or that they are uniquely talented and therefore can achieve things that no previous rulers could.
Once this stage is reached, it's possible for the government to start doing things to people whether they want it or not, instead of helping them get things done in accordance with their own wills, and at that stage the government meets the definition of authoritarian. We have ideas so good they have to be compulsory! is the rallying-cry of the self-righteous authoritarian.
A person who is really a libertarian will stay committed to liberty no matter how tempting the proposal to abandon it might be. They therefore reject the idea that ideas can be so good that the government has to force them on people. Exceptions to this rule are only made in the gravest circumstances – never to try to make the world better, whether the justification be to "put order to things" or for "the greatest good".
A person who is really a libertarian will reject proposals from both the left and the right if those proposals are too authoritarian, even if they have minor sympathies towards one of the two poles.
They will not (for example) only reject leftist authoritarian ideas, such as raising taxes or making a minority language compulsory for all school children, while accepting any and all right-wing authoritarian ideas, such as starting wars or drug prohibition.
A person who claims to be a left libertarian will happily criticise the left if it does authoritarian things. Many authoritarian leftists have been agitating to remove speaking rights from various conservatives (or even just people labelled "conservative" by the media), a process they refer to as "deplatforming". This is blatantly authoritarian, so anyone supporting it on the grounds that it furthers leftist interests cannot also claim to be a libertarian.
Not even if they believe that the left is the side of liberty! Being an authoritarian under the guise that one's authoritarianism ultimately serves libertarian ends is a fail. All psychopathic dictators claim this.
Likewise, a person who claims to be a right libertarian will genuinely be against crony capitalism and genuinely be against the political influence that large corporate interests exert on the legislation. They will refuse to complain only about taxation, and will also complain about corporate welfare and bailouts of inefficient companies.
Because authoritarianism is so unfashionable, many people will try and sneak authoritarian ideas into the discourse under the guise of them being either left or right. If the person they are speaking with is simple enough to equate either left or right eternally with libertarianism, then getting that person to oppose something is as simple as equating it with whichever of the left or right that person associates with authoritarianism.
The left does this with rhetoric about the need to make up for past injustices and for forced equality of outcome, and the right does this by stirring up fear of government and of minorities. Any person who is really a libertarian will reject all of this reasoning, and will remain steadfast to the belief that ideas should not be forced onto others, because justifying authoritarianism from either the left or the right will justify more of it from the other side as well.
*
If you enjoyed reading this essay, you can get a compilation of the Best VJMP Essays and Articles of 2017 from Amazon for Kindle or Amazon for CreateSpace (for international readers), or TradeMe (for Kiwis).