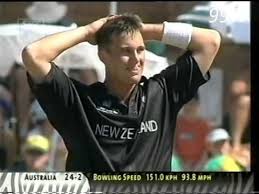 There seems to be a paradigm shift going on in the world of international cricket at the moment. The rise of T20 cricket and international T20 leagues has revolutionised viewing patterns and brought tens of millions of new fans to the game.
This essay suggests a change that, although it should be welcome, is a bit more humble: making a ODI tri-nations involving Australia, South Africa and New Zealand into a regular fixture.
It hasn't been feasible to suggest such a thing previously because the Black Caps have not previously been up to the extremely high standards set by South Africa and Australia (apart from South Africa's generally poor showing in Cricket World Cups).
But now it seems like the Black Caps can hold their own against both of those other sides in ODIs, and will be able to for the forseeable future, making a tri-nations a legitimate contest.
There are many strong parallels between this idea and the already proven successful concept of doing exactly the same thing in rugby.
For one, there are very close cultural links between the three countries. All three are children of the British Empire, all play cricket, rugby, hockey, all speak English etc. For decades there has been considerable immigration between the three countries.
That was the logic that led to the advent of the Tri Nations rugby tournament. This proved to be a roaring success, as there was a consistent demand to see a regular, high-quality, competitive tournament.
The Chappell-Hadlee ODI series cup played between Australia and New Zealand has also been a success, with the name of the tournament becoming a byword for close and exciting games. This would naturally fall under the ambit of this tri-nations in the same way the Bledisloe Cup fell under the ambit of the rugby Tri Nations.
The current South Africa-Black Caps ODI series has become a seesaw grudge match because of the excellence of both sides and because of feelings of unfinished business around South Africa's loss in the CWC semifinal at Eden Park in 2015.
And cricket fans around the world know that Australia versus South Africa is the matchup most likely to pose the greatest test of skill now and in the near future at least.
So all three ingredients in this mix are high-grade.
There is already a precedent for this kind of thing – the Australians regularly play ODI tri-series with two visiting teams (or even Australia A), and there has even been one iteration when the visiting teams were South Africa and New Zealand – and it was by all accounts an excellent series (but not for Steve Waugh, who was replaced by Ricky Ponting as ODI captain in the wake of Australia's defeat).
If Australia were to host it permanently or semi-permanently on the grounds that they would get by far the best crowds, they could arrange to play either New Zealand or South Africa in a Test series either before or after the tri-nations, smoothing the logistic arrangements.
With international cricket undergoing many changes at the moment, it's possible that a regular fixture like this might gain in popularity as it develops a history and established rivalry.