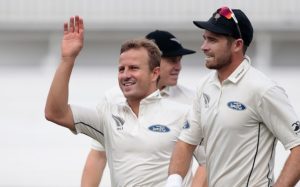 First Day, First Test, Black Caps vs. South Africa in South Africa 2016
Pre-match odds had South Africa favourites at around $2.30, the Black Caps at around $3.80. The Black Caps went out slightly when South Africa won the toss and chose to bat, but not by much (to around $4.30), probably reflecting the degree of uncertainty around the pitch and weather conditions.
The Black Caps went with four seamers, appearing to agree with the argument presented earlier this week that Ish Sodhi offers less value than either Henry or Bracewell. They decided to go with Bracewell over Henry, possibly for the good reason that this is not a development tour.
Trent Boult was magnificent in the first session before drinks, taking the wicket of Stephen Cook with a perfectly placed ball that took the edge through to Watling. Boult bowled 8 overs for figures of 8-1 before drinks in a masterclass of accuracy. Southee and Bracewell were less effective, Southee struggling for rhythm and Bracewell looking rusty. At this point the Black Caps had gone out to $4.50 and the Draw had come in to $2.66.
Williamson shuffled his bowlers after drinks but Southee continued to bowl poorly, giving away too many wide balls outside off without building any real pressure. By lunch, South Africa were 94/2 with Hashim Amla looking imperious. He was on 42 off 41 balls with nine boundaries. There was no aggression from Amla, just waiting for bad balls and then hitting them hard into gaps. The Black Caps were paying $5.80 by this time, with South Africa in to $2.16.
The passage after lunch was marked by the intense battle between Amla and Boult, the best batsman and best bowler on either side. After Duminy was caught hooking off a Wagner short ball, Amla found the going much more difficult than before lunch, with Boult continuing to throw down accurate deliveries with excellent shape at a good pace. Eventually Boult dismissed Amla with a straight ball that swung in and took the inside edge through to Watling. At 131/4 at the second drinks break, the odds for the Black Caps had come in to $4.10, with the Draw fading to $2.86.
After the drinks break the second session was attritional, with only 15 runs coming off the last 14 overs of the session. Faf du Plessis was extremely defensive and ended the session with only 18 runs from 74 balls.
The moment of the third session, and perhaps the day, came just when it started to look like the redoubtable South African defence had started to tire the Kiwis. A wide half-volley from Neil Wagner was smashed by Faf du Plessis and cannoned towards the boundary until plucked from the air one-handed by a flying Kane Williamson at gully with a catch that Chris Harris would have been proud of.
This left South Africa 160/5 and the odds for the Black Caps were then $3.55, still the outsider but lower than at the start of play.
The third session continued with a South African counterattack, with Temba Bavuma and Quentin de Kock taking on the Black Caps bowlers. Their aggression was checked by a Mitchell Santner double strike, with de Kock caught slogging in the deep and Bavuma out trying to sweep an arm ball that had him lbw.
From that point it seemed that the South African innings was in its death throes, with Philander out chipping Wagner tamely to mid off. Kagiso Rabada and Dale Steyn were left when bad light stopped play, after 77.4 overs, with South Africa 236/8. Perhaps surprisingly at this point, South Africa were still favourites, paying $2.74 to the Black Caps' $2.88 (the Draw was $3.45).
The player of the day was probably Trent Boult, narrowly over Neil Wagner, with Hashim Amla in third place. The play of the day was definitely Kane Williamson's screamer at gully to dismiss Faf du Plessis.
Neil Wagner's bowling average is now under 30, and with Southee looking insipid (his 18 painful overs going for 63 runs with no wicket) it might be that Boult is now clearly the leader of the New Zealand pace attack. Boult looked far more dangerous than Southee today and on another day could have had five wickets.
The Black Caps will look to take care of South Africa with the new ball tomorrow and then bat until the close of play.
– DAN McGLASHAN