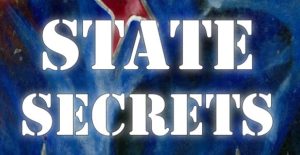 Buy a copy of State Secrets for Kindle by clicking this link.
At a critical crossroads in New Zealand history, VJM Publishing releases the second, e-book edition of New Zealand best seller State Secrets by author Ben Vidgen. Read retrospectively, the 1999 best seller is essential reading for anyone wanting to understand what is now happening in the country known as Aotearoa.
State Secrets correctly forecast the emergence of major threats to New Zealand national security (and its status as a genuinely democratic state). Threats which come from the rise of multinational trade blocs intent on accessing New Zealand's considerable natural resources.
The agents of these threats, Vidgen maintains, are supported by neoliberal political elements within and outside New Zealand's own Government, such as its media structure, quick to take advantage of the simultaneous rise of a highly dangerous violent criminal class within New Zealand.
The 1999 book argues the rise of organised crime in New Zealand is nothing less than a second front in an economic war being deliberately waged on New Zealand sovereignty by those who seek to end New Zealand democratic traditions from the shadows.
For example, State Secrets demonstrates how large scale money laundering and white collar tax evasion was rife long before New Zealand was named in the Panama Tax haven bank scandal more than 60,000 times in 2016. State Secrets argued, well ahead of the mainstream pundits, that New Zealand's role as the largest "washing machine" in the South Pacific was having an impact on the housing market and the New Zealand way of life.
Viewed in hindsight, the analysis – written by a veteran New Zealand investigator, with a research background in academic political science and New Zealand military intelligence – was dead on the bulls-eye every time.
State Secrets forecast the failure of the war on drugs, predicting a massive surge in the meth trade, financed by white collar businessmen, being simultaneously tied to the super escalated growth of American styled super gangs. A claim then considered unlikely but now indisputable for anyone who read the headlines today.
State Secrets correctly assessed that the collateral damage of this 'evolution' of New Zealand organised crime would serve to make lower socio-economic communities dysfunctional and would disempower swathes of the wider population as its impact overwhelmed the capacity of our health, education, social services and correctional services – in the process conveniently enhancing the argument for privatisation.
State Secrets identifies the enemy within: a neoliberal American and New Zealand Business Round Table alliance who today can be found to have dug their fingers deep into all sides of the New Zealand Parliament (and increasingly the state judiciary and security forces), the political spectrum, and even its underbelly.
It is driven by the motives of those addicted to the lust for absolute power and maximum profit. Forces seduced, as State Secrets forecasts, pre 9/11, by the largely self-made (self-armed) bogey monster of terrorism.
The enemy within chooses to ignore dealing with the real threats New Zealand faces by placing control on foreign investment and New Zealand, notoriously relaxing banking and company law.
Instead it seeks to opportunistically erode New Zealand civil liberties and strengthen a transformative State: one full of secrets which has broken its covenant with the people, serving a corporate master at the expense of the rest of New Zealand.