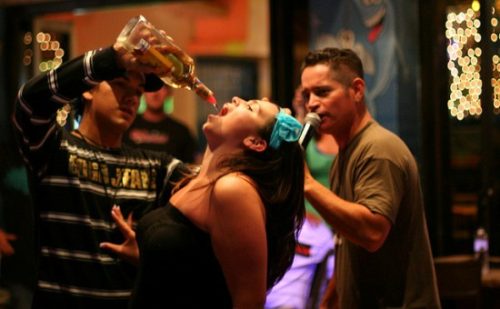 A lot of really stupid things have fallen out of fashion in recent decades, and for good reason. Smoking tobacco is now uncommon, because we're now much more aware of the deleterious effects than we used to be, and seeing someone riding a motorcycle without a helmet is rare too. This article asks the question: will drinking alcohol still form the basis of Western social interaction in half a century?
Let's face it: the only reason we drink a lot is habit. It's not because alcohol is good, and it's not because alcohol is safe. Alcohol isn't really good because there are plenty of other common drugs that are better: MDMA is a better entactogen, cannabis is more relaxing, opium is better for getting wasted with. It's also not safe, for reasons that are obvious to anyone who has spent time around drunks.
No – the reason why we drink a lot is because our parents did, and they drank because their parents did, and so on, and in every case it's true that people drank alcohol because that's just what people did. For thousands of years, the ancestors of Westerners knocked back the booze – they didn't know about the relationship between alcohol and heart disease, liver failure or cancer, because people seldom lived long enough to be affected by such things.
Moreover, there are large capital interests that are tied up in alcohol manufacture and sales. The alcohol industry is easily big enough to buy off politicians at the national level – and they do. These politicians have been more than happy to stop any competitor to alcohol getting established, which is why our recreational drug scene is soaked with booze (and thereby with the violence, sluttiness, vomiting and hangovers that inevitably accompany the alcohol experience).
These factors might very soon stop having an impact. The changing drug market scene has smashed the duopoly over the recreational drug market that alcohol once enjoyed along with tobacco. Not only are there now over a dozen territories where cannabis is properly legal, but the rise of dark markets on the Internet has made it possible for people anywhere to access a wide variety of drugs without needing anything more than a postal address.
There have also been more sinister undertones to the historical promotion of alcohol use.
From the earliest days of the Age of Colonialism, European traders were aware of the destructive effect that alcohol (usually in the form of rum) had on the natives of the New World. There was no need to shoot them when you could simply trade them some booze and watch them destroy themselves. Although it was not appreciated at the time, alcohol was effectively able to be used as a bioweapon by the Europeans.
This was because they had developed a genetic resistance to alcohol over thousands of years of exposure, while the natives had not. Over the past several thousand years, because Europeans were getting drunk much of the time, there was a selective pressure against those who misbehaved while drunk. Anyone who became excessively violent or stupid while drunk was liable to delete themselves, and their genes, from the gene pool. Over time, therefore, Europeans adapted to behave relatively tamely when intoxicated.
So when the European traders introduced alcohol to the delicate psychobiological balance of the New World, it had a similar effect to a hand grenade. Alcoholism has destroyed the native peoples of North America, South America, Australia and Polynesia. If European complicity in this was widely accepted and owned up to, the need to legalise recreational alternatives to alcohol would become obvious.
Given all of these factors, it has to be asked whether the widespread consumption of alcohol is something that will continue much further into the future. It can already be observed that the youngest generation is abandoning alcohol en masse, usually for cannabis but sometimes for other substances that can be easily be obtained: MDMA or research chemicals are popular alternatives.
Global recreational drug culture this century is more likely to revolve around cannabis for the reasons described. Cannabis is something that people of all nations and races can enjoy equally without any sense of cultural advantage, unlike alcohol, which is really the white man's drug. It can already be seen (in the few places they exist) that cannabis cafes serve as places where people of many cultures come together in harmony and good cheer.
As awareness of the harms of alcohol spreads, as recreational alternatives become increasingly available and as world culture moves further away from a Eurocentric model, it's possible that the prominence of alcohol in our culture diminishes in the same way tobacco did. It's hard to imagine now, but there are good reasons to think that hardly anyone will still be regularly drinking alcohol in 50 years' time.
*
If you enjoyed reading this essay, you can get a compilation of the Best VJMP Essays and Articles of 2017 from Amazon for Kindle or Amazon for CreateSpace (for international readers), or TradeMe (for Kiwis).