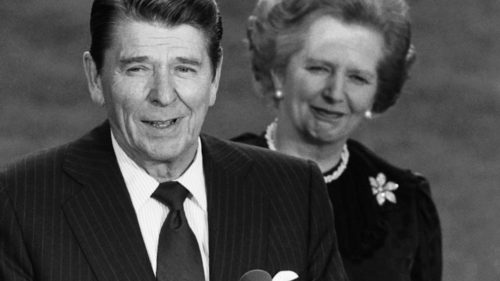 Contemporary political philosophy suffers from an inability to accurately define terms. Political discussion has been so inundated with lies from all quarters that no-one any longer knows what anyone else is really talking about. This essay makes an attempt to make sense of conservatism by teasing it apart into recognisably masculine and feminine strands.
Like its synonym 'right-wing', conservatism is usually equated with a will to keep things the same as they are now. This seems to be naturally implied by the root verb 'to conserve'. In most cases, this makes a lot of sense. The balance of power has traditionally been held by men, by the religious and by the wealthy, and these are generally the same people who promote and support conservatism.
In some cases, however, it makes less sense. Why, for example, would a conservative support mass immigration to America of low-skilled Mexican workers? Such an action not only fails to conserve the status quo but actively disrupts it. Why also would a conservative support the introduction of government surveillance measures like the PATRIOT Act? Such an action also marks a distinct change of attitude on the part of the American Government towards the people.
One solution to this dilemma is to think in terms of vertical or horizontal dominance hierarchies. Another potential solution follows from the understanding that conservative attitudes divide neatly into two major strains. The basic dichotomy could be considered between active conservatism (or masculine conservatism) and passive (or feminine) conservatism.
The core tenet of masculine conservatism is that people have a moral obligation to take action to impose order; in other words, an obligation to take action to reduce chaos. This is a missionary, evangelical form of conservatism in that it goes out into the world looking for disorder to impose itself upon. It's an extremely popular sentiment in the New World, because the immigration histories of these countries selected for people willing to impose order upon chaos, on account of that the New World had so much chaos.
Done correctly, this masculine conservatism can lead to a person being able to maintain a complex system at high performance for a long time. A doctor who makes a diagnosis is operating to reduce the chaos in their patient's body; a mechanic who makes a diagnosis is operating to reduce the chaos in their client's vehicle.
The core tenet of feminine conservatism is that people have a moral obligation to not change anything, to maintain the status quo. This strand of conservatism is the one that makes appeals to "tradition" so as to justify not changing anything. Change is here seen as disruptive, destructive, stressful – and fundamentally unnecessary.
In an ideal situation, these two impulses overlap so much as to be indistinguishable. After all, if things are already in good order, there's no pressing reason to change anything, and therefore a desire for the status quo is a desire for good order. Moreover, in such a situation, a desire for good order is a desire for the status quo, so a conservative can simply copy what their forebears did to succeed.
In the situation we have inherited, these two impulses are far away from harmonious co-operation. Another way of expressing this disharmony is to consider it in terms of fault lines within the conservative movement. Anti-conservative forces might target the loci of these divisions between masculine and feminine with agitprop intended to further the divide.
There are two ways to do this. The first is to draw attention to a situation of persisting disorder, because one half of the conservatives will want the situation to persist and the other half will want the disorder to be resolved. The second is to draw attention to a situation of disintegrating order, because one half of the conservatives will see this disintegration as a natural process and the other half will want to retain that which is at risk of being lost.
The two strands of conservatism that this essay considers masculine and feminine are extremely powerful – if they work in unison – but, if they don't, the overall system is fragile and highly vulnerable to direct pressure from the outside.
*
If you enjoyed reading this essay, you can get a compilation of the Best VJMP Essays and Articles of 2017 from Amazon for Kindle or Amazon for CreateSpace (for international readers), or TradeMe (for Kiwis).