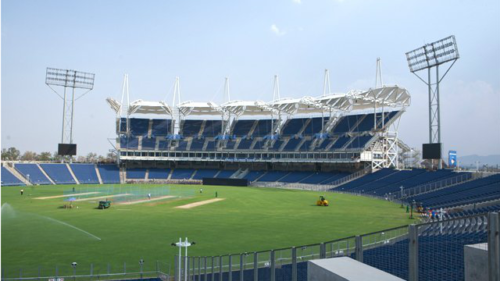 The Black Caps landed the first blow on their 2017 tour to India with a thumping six-wicket win in the first ODI in Mumbai, and a win in Pune tonight will see them inflict on India their first home series loss in two years. If the Black Caps can win both of the remaining matches (as unlikely as it might sound), they will go up to 3rd place in the official ODI team rankings – higher than Australia.
There is certainly a solid case that the Black Caps' batting line-up is stronger than Australia's, in Indian conditions at least. Martin Guptill does not have a high average in ODIs in Asia, and Colin Munro is so far unproven at the top in any conditions, but Kane Williamson, Ross Taylor and Tom Latham are all superb players of spin. Good enough so that India can't simply rely on bamboozling them with drift and turn as for past Kiwi batting lineups.
In the previous ODI at this ground, earlier this year, England batted first and scored 350/7, and then India chased it down thanks to a Virat Kohli century and 120 off 76 balls from Kedar Yadhav. It's not believed that the wickets in India will be as run-heavy this season, but in any case the Black Caps might be happier batting second.
Batting second confers a distinct advantage if the wicket turns out to be much more productive than initially believed. This is because of psychology. Generally speaking, a batsman will be reasonably satisfied with a big score batting first and might be more reluctant to accelerate if they feel they are already above par and don't want to risk their lead by losing wickets.
This often leads to the team batting first not pushing hard enough for runs, and is why some massive totals have been chased down since the 2015 Cricket World Cup.
Apart from what to do in Pune if he wins the toss, Kane Williamson also has to think about which bowlers to take into the match. The batting lineup is settled and, apart from possibly Colin Munro as opener, the current top 5 will go all the way through to the 2019 Cricket World Cup, but there are two major questions about the bowlers.
The first is whether it might be a good idea to bring the legspin of Ish Sodhi into the equation to compliment the left arm orthodox of Mitchell Santner. India and Bangladesh have recently had plenty of success playing two spinners in subcontinent conditions, and Sodhi has improved majorly over the past 12 months, finally discovering the consistency he needed to be a genuine threat.
The second is whether or not they can keep leaving Matt Henry out of the starting lineup. Although Trent Boult's place is assured it's not at all clear that either Tim Southee or Adam Milne offer more threat than Henry with the ball. In fact, Henry averages 14 runs per wicket less than Milne in this stage of their careers, and Southee's returns in recent years are not much better.
If Colin de Grandhomme cannot acclimatise to Indian conditions in time to reliably bowl 10 overs, the Black Caps might decide that the top six is strong enough that either Henry or Milne – who both average in the 20s in first class cricket – could be promoted to 7.
The Black Caps bowled well in the first ODI but the risk for the lineup they picked is that only Trent Boult and Mitchell Santner offer any realistic threat with the ball, considering the quality of the Indian batting. None of Southee, Milne or de Grandhomme were able to pose a consistent danger so perhaps the inclusion of Henry and Sodhi could make the bowling attack more dangerous at little extra risk of being bowled out.