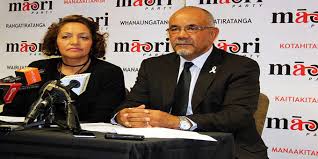 When the Maori Party made the decision to support a conservative Fifth National Government, many commentators believed that it would be the death of the party. Indeed, the Maori Party was destroyed at the 2017 General Election, when voters appeared to decide that supporting a conservative government had lowered Maori standards of living. This article looks at who stuck by them and who didn't from 2014.
Let's get the most obvious out of the way – there was an extremely strong correlation between voting Maori Party and being Maori. In 2014 this was 0.91, and by 2017 it was slightly weaker, at 0.89. This puts a figure on what we already knew – that the vast bulk of Maori Party voters are Maoris.
In this, and in most other regards, Maori Party voters were very similar to who they were in 2014.
One notable difference is that the Maori Party this year got a fair bit more support from Pacific Islanders. The correlation between being a Pacific Islander and voting Maori Party in 2017 had increased to 0.08 from 0.01 in 2014.
Of course, Pacific Islanders will very seldom be on the Maori Roll and therefore this increased support from them would not have helped the Maori Party win an electorate seat. Indeed, it could even be argued that broadening the Maori Party tent to include Pacific Islanders was one of the main causes of it losing so much support to the Labour Party in 2017.
Considering that the Maori Party won almost as many votes in 2017 (30,580) as it did in 2014 (31,849), it might be that the attempt to broaden their appeal to other ethnic groups, while partially successful, cost them just enough Maori support to mean that they did not win any Maori seats.
This suggestion is backed up by the observation that Maori Party voters were slightly less likely to be New Zealand born in 2017 when compared to 2014. The correlation between the two was 0.62 in 2014 and 0.58 in 2017. Furthermore, the correlation between voting for them and being born in the Pacific Islands became less negative, from -0.19 in 2014 to -0.12 in 2017.
If this is true then it speaks to the string of strategic errors that the Maori Party made. If they gambled their electoral future on public belief in some kind of pan-Polynesian sentiment, they lost everything.
This loss of support to Labour can be seen in microcosm in the education and training industry. The correlation between working in this industry and voting Maori Party fell from 0.38 to 0.34, while it rose in the case of Labour, from -0.01 to 0.15. This means that a person in this industry in 2017 was only slightly more likely to vote Maori Party they were to vote Labour, compared to much more likely in 2014.
It can also be seen with the occupation of community and personal services workers. The correlation between having this occupation and voting Maori Party was 0.64 in 2014, but 0.59 in 2017, whereas the correlations with voting Labour went in the opposite direction – from 0.20 in 2014 to 0.39 in 2017.
So it would seem that a reasonable number of Maori voters in people-focused jobs switched to the Labour Party, and that this was partially compensated for by an increase in Pacific Islander voters.
*
This article is an excerpt from the 2nd Edition of Understanding New Zealand, which Dan McGlashan and VJM Publishing will have ready for sale at the end of October 2017. This will contain statistics calculated according to the official final vote counts and will be freshly updated with data from the 2017 General Election.