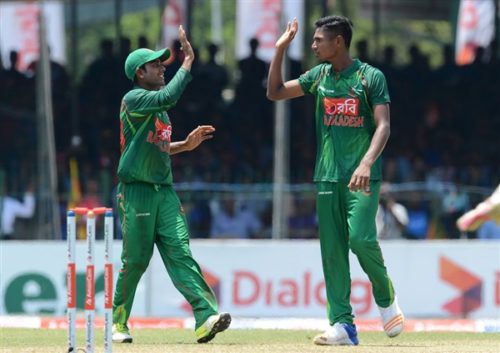 This Champions Trophy has been one of upsets. The Black Caps got themselves into a position of control before the rain set in against the slightly favoured world champion Australia side, then Pakistan defeated the moderately favoured South Africa side, and last night Sri Lanka defeated the massively favoured India side.
An even worse omen for the Black Caps is the fact that they lost their previous encounter with Bangladesh in the Ireland tri-series a few short weeks ago.
This will give the Bangladeshis confidence before their crucial Group A encounter with the Black Caps in Cardiff tonight. They will, however, have to contend with facing a very different Black Caps side to the one they beat in Dublin.
Most notably, the Black Caps will now have the presence of all of their four genuinely world-class players, with Martin Guptill, Kane Williamson and Trent Boult, all of whom missed the Ireland tri-series for IPL duty, rejoining Ross Taylor in the side.
This explains why the Black Caps are still the favourites to win the encounter on BetFair. They are only paying $1.33 compared to Bangladesh's $3.90, making them heavy favourites.
Martin Guptill has looked very good in his two starts this tournament, but has been unable to go on and play a punishing innings. With Luke Ronchi likely to continue partnering him at the top, Bangladesh will be forced to take early wickets or risk getting hit out of the game.
With Kane Williamson and Ross Taylor completing the top order, the most likely outcome of the match appears to be the Black Caps top four batting the Bangladeshi bowlers – a class weaker than the English and Australian batteries – out of the game.
If they don't, Bangladesh will feel confident of rolling the rest of the order. The Black Caps lost 7 for 37 against Australia and 8 for 65 against England, and Bangladesh know that if they can get Williamson in early and then out early, they will be in a very strong position.
The Black Caps might be tempted to fiddle with their middle order a bit, knowing that this has been their soft underbelly for a long time.
Neil Broom's returns have been poor this tournament – only 11 and 14 – but he has averaged 43.53 since coming back into the Black Caps side last December. His position should be okay for now.
The real question is how to fit both of Jimmy Neesham and Corey Anderson in the team. It may be that one of them comes out for Colin de Grandhomme, who has shown the ability to come to the crease and start hitting straight away.
It may also necessary to drop Mitchell Santner below Adam Milne in the batting order, as Santner has had great struggles with the bat recently.
Another option is bringing Latham in to open and moving Ronchi back down the order.
Bangladesh may find it much more difficult to chase down scores like 271, as they managed to do in Dublin, because they will have to do it against Boult, Tim Southee and Adam Milne.
However, their batting down to 7 is much stronger than it has ever previously been in Bangladesh cricket history.
Tamim Iqbal is their strongest bat on recent form. In 30 matches since the last Cricket World Cup he averages 59.53 with the bat, and has scored over 200 runs in two innings so far this tournament.
Around him there are a number of very talented batsmen, in particular Sabbir Rahman, Soumya Sarkar, Mushfiqur Rahim and the allrounder Shakib al Hasan.
If they can keep Boult, Milne and Southee out with the new ball, as England managed to do, then it will be possible for them to milk a plethora of runs in the middle stages.
A major danger for Bangladesh is that if they fail to bowl New Zealand out, they may lack the hitting power to match them across 50 overs. Despite the talent in the Bangladeshi side it's hard to see them chasing 300 or more, even in the most favourable circumstances.
All of this could be moot in the very real circumstances of rain, as a washout would see the Black Caps eliminated and Bangladesh with only a mathematical chance of progress.
For the winner, however, an Australian loss in their matchup against the bookies' favourites England, or a washout in the same encounter, would see them progress to the semi-finals.
Considering the chaos in the other group, there's every chance that they would then play a relatively soft team like Pakistan or Sri Lanka in the semifinal.
So there's all to play for tonight.