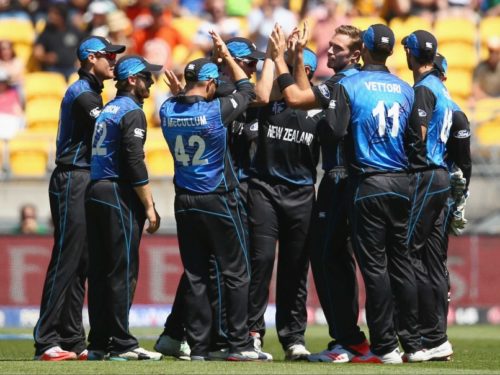 The washout against Australia a few nights ago gave Black Caps fans a lesson in expectation akin to being given a lesson in orgasm denial from a professional dominatrix. With Australia reduced to 53/3 in the tenth over of their chase, all signs were pointing towards an opening round upset as shocking as the Black Caps' win over Australia in the 1992 Cricket World Cup.
Instead, the rain came in to deny us a fair finish to the contest. So the Black Caps will be champing at the bit to have a go at England tonight (9:30 p.m. NZT) in Cardiff, in a match that they almost have to win in order to advance to the semifinals.
The English side has been heralded as prospective champions from all corners, and this is reflected in the short odds offered on BetFair for England to win this contest: $1.52, compared to $2.90 for the Black Caps.
Looking at the achievements of the England batting unit it's not hard to see why.
Joe Root looks unstoppable at the moment, with an ODI batting average of 49.68 and just coming off 133* against Bangladesh. Around him are three batsmen who are ranked just behind Ross Taylor on the ODI charts right now: Alex Hales, Eoin Morgan and Jos Buttler.
All of these batsmen, including Root, are capable of batting at a very fast clip, and so are opener Jason Roy and allrounder Ben Stokes.
So the Black Caps will go into the match knowing that a failure to take early wickets will likely leave them chasing a gigantic score. They need to at least get Joe Root out early if they want to have a real chance of bowling England out.
But if English batting stocks are strong, the bowling stocks are another question.
Chris Woakes has been ruled out of this match through injury and Ben Stokes may not be able to bowl his full quota of 10 overs on account of a minor knee injury.
On top of this, Jake Ball has been very expensive in recent games and neither David Willey, Mark Wood nor Steven Finn have shown a particular talent for taking wickets. This means that Liam Plunkett – at 16th – is likely to be the highest-ranked English bowler on display.
The weak English bowling is where, if anywhere, the match is most likely to be decided. They will have to get Kane Williamson and Taylor out cheapish, and avoid being hit out of the game by Martin Guptill or Luke Ronchi at the top, to have any realistic chance of winning.
If they can, then they will be into the currently misfiring Black Caps middle order. The Black Caps lost 7 for 37 at the end of their innings against Australia, mostly thanks to their middle order finding Australian fielders with most of their lofted shots.
The New Zealand middle order had already been identified as a point of weakness before this tournament, so the English bowlers should feel confident of restricting the Black Caps to a small total if they can get into it before the death overs.
However, if they can't, then they will not be able to defend anything less than 350, because otherwise the Black Caps will hit them out of the game.
Adam Milne was extremely impressive against Australia, despite only bowling a few overs. This will make him, alongside Trent Boult and Mitchell Santner, the likely choices for bowlers.
They will be partnered by either Tim Southee or Jeetan Patel, depending on which of the two appear best suited for the conditions, and a combination of Corey Anderson and Jimmy Neesham as the fifth bowler.
All of Milne, Boult and Santner are more impressive than any bowler England is fielding – for reasons of pace, skill and economy respectively – so it is most likely to be here that the Black Caps win the match.