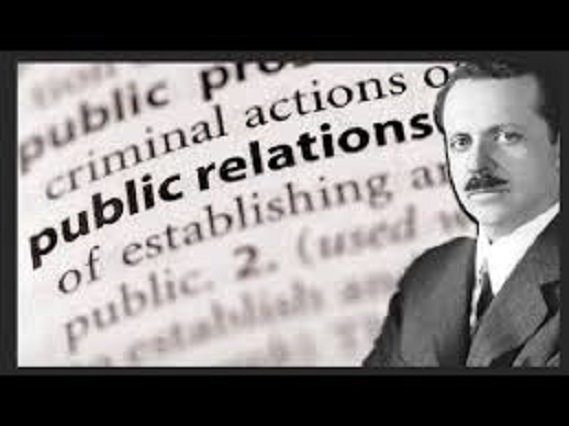 This reading continues from here.
Chapter Eleven in Edward Bernays's Propaganda is called 'The Mechanics of Propaganda.' Here Bernays talks about how propaganda gets transmitted to the public.
Bernays defined propaganda here as "the establishing of reciprocal understanding between a person and a group." Therefore, there is no practical limit to the number and type of media that may be employed to transmit propaganda (one wonders what Bernays would have made of the Internet).
He writes about how the public meeting was the best means of propaganda 50 years ago (i.e. in the 1870s), but people have become "sick of the ballyhoo of the rally," and prefer to get information from the radio and newspapers. The propagandist must keep up with the shifting patterns of the popularity of various media, as well as anticipate future changes.
Bernays notes here that there is almost no item of news that, if published, would not benefit the interests of some people and harm the interests of others. He notes also that the newspaper does not care about the propaganda value of a piece of information, but only about its news value. Thus, propaganda that is also news is more likely to get propagated.
It's important to tailor the message to the audience. The propagandist must create propaganda items with specific audiences in mind. To this end, magazines are different to newspapers because they're not obliged to print news. This also means that magazines are kind of naturally like propaganda organs.
The propagandist might like to consider supplying a propaganda organ with a series of articles that puts the case to a particular audience. This is especially likely to succeed if that organ feels like they can derive prestige from the association with the company the propagandist works for.
Hilariously (with hindsight), Bernays is able to speak about the radio when it was a new invention and its development uncertain. He notes that many newspaper enterprises have moved into radio, correctly in his estimation. Anticipating the Internet, he predicts that various groups will have an ev ever-increasing interest in buying media space for the sake of propagandising.
Incredibly, Bernays was able to write 90 years ago that Hollywood films were major propaganda devices. He also predicts the rise of the cult of personality by noting that "the public instinctively demands a personality to typify a conspicuous corporation or enterprise." This is acutely true in New Zealand, where our Prime Ministers have little to go on apart from the personality cults.
Bernays notes that the public has already become cynical to attempts at manipulating them through the media, but some interests are universal. People will always have a need for food, for amusement, for beauty and for leadership. For this reason, they will always seek out sources of propaganda.
He leaves us with the statement: "Intelligent men must realise that propaganda is the modern instrument by which they can fight for productive ends and help bring order out of chaos." This statement must be read in the light of World War I, which was itself the result of the old methods of fighting. In this sense, Bernays and this book herald a shift from an Age of Iron to an Age of Silver.
*
If you enjoyed reading this essay, you can get a compilation of the Best VJMP Essays and Articles of 2018 from Amazon for Kindle or Amazon for CreateSpace (for international readers), or TradeMe (for Kiwis). A compilation of the Best VJMP Essays and Articles of 2017 is also available.
*
If you would like to support our work in other ways, please consider subscribing to our SubscribeStar fund.