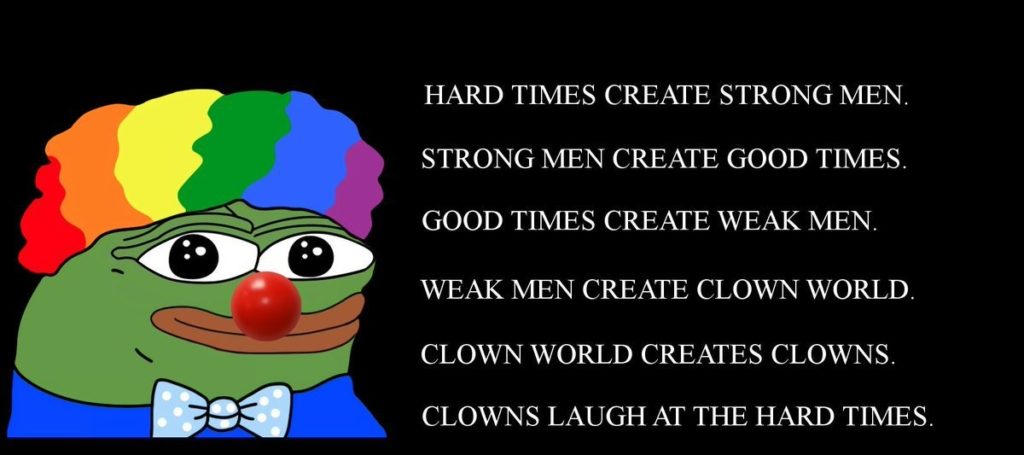 Nightmares are similar enough to normal life to trick you into thinking they are real, which is why they're so horrifying. Clown World is also very similar to normal life, which is why it's so horrifying. Unfortunately for us, Clown World is everyday life now.
In Clown World, everyday life revolves around work.
Even though it was easy for pre-Clown World adults to own a home and raise a family on their wages, it's extremely difficult today. The price of housing has spiked in recent years, but wages have lagged far behind. Much of everyday life in Clown World is taken up with working extra hours to make up for the poverty that now exists.
In Clown World, working 40 hours a week is considered a part time job.
If you want a luxury such as owning a house, you'd better get used to working longer hours than that. Part of everyday life in Clown World is accepting that we don't have the same standard of living that our parents had. Although trinkets and gadgets are cheaper than ever, the life essentials that take up most of one's income – food and housing – are more expensive than ever.
Many are asking themselves how it's possible that, if our parents could buy houses on their wages, and if we've had a few decades of relentless economic growth since then, it's harder to buy a house on the average wage now? Shouldn't it be easier than ever to buy a house, if we're all much richer than 40 years ago?
The reality is that the masses have been conditioned into consenting to our production getting stolen from us by the ruling class. This happens in a number of ways.
The most obvious way is getting us to accept a smaller share of production. The wage share – the part of national income that is allocated to wage earners – has been steadily declining since the 1980s. Things are now so bad that workers see as little as ten cents of extra wages for every extra dollar their work produces.
It's hard for an individual worker to notice this decline in the wage share, because they experience it as a balance of power that gradually shifts ever further towards the employer. What they would notice is employers bargaining from ever stronger positions, as the presence of gigantic pools of imported cheap labour give those employers highly profitable alternatives to hiring locals.
Everyday life in Clown World might revolve around working all the time for fuck all, but it's not possible to win simply by avoiding work. The ruling class has a variety of methods to steal our saved wealth too.
There are more subtle ways to steal a person's production than taking it all off them and giving them a fraction of it back. Some ways are so subtle that you can do it right in front of their face and they won't even notice, much less complain.
One of the most subtle is inflation. The United States Dollar was trading at around 35 to an ounce of gold in the early 1970s. At this time, the average wage was about $3 an hour, so it took roughly 12 hours of labour to buy what an ounce of gold would get you.
Half a century later, the USD is trading at over 1,800 to an ounce of gold, while the average wage has only increased to $25 an hour. So now it takes roughly 72 hours of labour to buy what an ounce of gold would get you. Anyone holding dollars, or receiving a fixed income in dollars, has lost over 85% of their wealth over the last 50 years relative to someone holding gold.
Those who are holding the gold are the same ones printing the dollars, and they're laughing their arses off. Everyday life, for the masses, involves running faster and faster on an employment treadmill to earn credits that the ruling class creates out of thin air.
A second subtle way to steal the wealth of the masses is through runaway house prices.
The ruling class already own most of the land. So every time house prices increase in value relative to wages, the ruling class gets wealthier and the masses get poorer. The problem is that house prices are dictated by actions of the ruling class. If they want house prices to go up, they simply import more immigrants and refuse to build new housing. Increasing demand while holding supply steady inevitably increases the price.
So the ruling class have got the workers leaping higher and higher to reach a benchmark that gets further and further away. What this had led to is an everyday life which isn't much different to the everyday life of a medieval serf. You get worked to death and have bugger-all to show for it.
People are induced into accepting this by repeated, frequent humiliations. These humiliations sap the will of their victims and make them compliant to threats and mistreatment.
In Clown World, the plebs are humiliated everyday by a relentless mass media bombardment calling them racists. Anyone who turns on a television sees talking heads droning on about how racist white people are, or they see sportspeople kneeling to protest racism. The net result is a deep sense of shame and low self-esteem.
This shame and low self-esteem prevent the masses from asking for a fair wage, or for accessible housing, worthwhile healthcare or education etc. People will accept any shit deal if you can humiliate them into thinking they don't deserve better.
Another major humiliation comes from laws such as those prohibiting cannabis or other spiritual sacraments. In most of the West, people get put in prison for producing or distributing cannabis, LSD, psilocybin, mescaline and DMT, even though there are stacks of evidence demonstrating that these substances can engender spiritual or mystic experiences.
In Clown World, you're not allowed to seek out the divine. Our everyday lives are taken up with entirely material concerns, in particular accumulating resources (whether physical or social). If we express any yearning to reconnect with the divine, we are labelled mentally ill.
Such cruel and arbitrary laws serve a very deliberate and calculated purpose: to induce submission. Much like the hectoring about supposedly being racist, the enduring presence of injustice causes people to lose their will and become submissive. They feel so bad about themselves that they give up, and no longer feel that they deserve better.
In Clown World, drugs are limited to those that our corporate owners think make us more productive. Cannabis and the psychedelics are out, because they decondition people and serve to break down the effects of brainwashing. Caffeine and Adderall are in, because they induce people towards hyperfocus, which is the ideal mindstate for performing repetitive office tasks. If you're lucky you can afford some tobacco or alcohol to numb the pain.
Everyday life in Clown World is marked by the fact that corporate interests can now lay claim to almost every waking moment of those they employ (and of many who they don't). The presence of reliable Internet has made it standard for people to still work answering emails after they get home for the evening. You're not even allowed to smoke weed on the weekends in case you fail a drug test.
For many in the Clown World of 2020, everyday life now resembles that of the humans who wake up in the pods in The Matrix. Our essential life energies are not put to use for our own betterment, but are instead drawn off by exploiters that most of us are barely aware of. The story of everyday life in Clown World is that we have gone from free people enjoying their lives to human livestock farmed by corporate interests for profit.
*
This article is an excerpt from Clown World Chronicles, a book about the insanity of life in the post-Industrial West. This is being compiled by Vince McLeod for an expected release in January 2021.
*
If you enjoyed reading this essay, you can get a compilation of the Best VJMP Essays and Articles of 2019 from Amazon for Kindle or Amazon for CreateSpace (for international readers), or TradeMe (for Kiwis). A compilation of the Best VJMP Essays and Articles of 2018 and the Best VJMP Essays and Articles of 2017 are also available.
*
If you would like to support our work in other ways, please consider subscribing to our SubscribeStar fund. Even better, buy any one of our books!